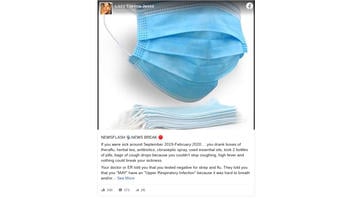 If you had a bad cough, high fever, shortness of breath and other COVID-19-like symptoms last September, did you have COVID-19? No: that's not true. The claim provides no evidence, while infectious disease experts relying on multiple studies conducted according to scientific standards say the studies show the pandemic didn't spread out of China until January of 2020.
The claim has appeared several times in recent weeks, verbatim, including in a Facebook post (archived here) on July 7, 2020, under the title 'NEWS FLASH NEWS BREAK.' It opened:
If you were sick around September 2019-February 2020 ....

you drank boxes of theraflu, herbal tea, antibiotics, cloraseptic spray, used essential oils, took 2 bottles of pills, bags of cough drops because you couldn't stop coughing, high fever and nothing could break your sickness ...

... You my friend have already had the Coronavirus!!!!
This is what the post looked like on Facebook at the time of writing:
(Source: Facebook screenshot taken on Thu Aug 13 21:14:20 2020 UTC)
Dr. Paul Pottinger, the director of the infectious diseases clinic at the University of Washington Medical Center in Seattle -- the epicenter of the first major U.S. outbreak -- says the symptoms described match typical coronavirus infections (COVID-19 is just one of several coronavirus strains) -- such as the cold. In an email exchange with Lead Stories on August 13, 2020, Pottinger said trained medical scientists found the sometimes-fatal COVID-19 coronavirus (SARS-CoV-2) did not land in the United States until January.
Pottinger is also a professor of medicine at the University of Washington School of Medicine and leads its infectious disease training programs and the clinical infectious disease section of the University of Washington Medical Center. He said he does not doubt the internationally accepted timelines established by researchers.
...The virus began to spread in parts of China in November or December 2020, and arrived in the USA thereafter -- initially in very low numbers, which have increased with time. Thus, no: A respiratory infection in the USA in September 2019 would not in fact have been caused by SARS-CoV-2."
Washington state had the first documented case of COVID-19 as well as the first documented community transmission, which is when the disease is not caught from a specific interaction with a known sick person, but is instead contracted by being at large in the community and encountering the virus, Pottinger said. He said epidemiologists speculate that there may have been slightly earlier imported cases and community spread in other parts of the country, but that has not been yet been proved.
Johns Hopkins Medicine, the clinical and hospital arm of Johns Hopkins University's School of Medicine in Baltimore, Maryland, on its COVID-19 information pages uses the same timeline:
COVID-19 appeared in Wuhan, a city in China, in December 2019. Although health officials are still tracing the exact source of this new coronavirus, early hypotheses thought it may be linked to a seafood market in Wuhan, China. Some people who visited the market developed viral pneumonia caused by the new coronavirus. A study that came out on Jan. 25, 2020, notes that the individual with the first reported case became ill on Dec. 1, 2019..."
The first case anywhere in the world was reported in late December, 2019, in Wuhan, China, according to infectious disease sleuths at the World Health Organization.
According to a scientific paper in the New England Journal of Medicine, the first documented COVID-19 case in the U.S. was a 35-year-old man who arrived at an urgent care clinic in Snohomish, Washington, on Jan. 19, 2020, with symptoms. He had recently returned from visiting family in Wuhan, China.
The U.S. Centers for Disease Control and Prevention had, by August, 2020, adopted the findings of four independent studies all finding that the first community transmission of COVID-19 in the U.S. was in January.