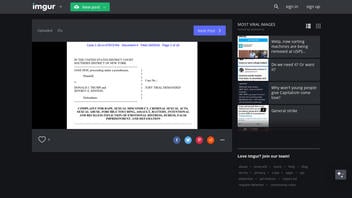 Does a lawsuit filed by a woman against Donald Trump and Jeffrey Epstein prove that Trump is a rapist? No, that's not true: The lawsuit document is not evidence of anything. It is just a legal complaint, something anyone can file in court without showing proof. In fact, the Doe v. Trump and Epstein lawsuit was dismissed years ago.
The document, which is ironically embedded in a fact check article about the lawsuit, is being shared on social media as evidence Trump committed rape. The document (archived here) is the original complaint filed on October 3, 2016,under the title "Case 1:16-cv-07673-RA". It opened:
COMPLAINT FOR RAPE, SEXUAL MISCONDUCT, CRIMINAL SEXUAL ACTS,
SEXUAL ABUSE, FORCIBLE TOUCHING, ASSAULT, BATTERY, INTENTIONAL
AND RECKLESS INFLICTION OF EMOTIONAL DISTRESS, DURESS, FALSE
IMPRISONMENT, AND DEFAMATION
______________________________________________________________________
This is a screenshot of the lawsuit's front page. (read the full document here.)
Donald Trump Jeffrey Epstein Rape Lawsuit and Affidavits by Alan Duke on Scribd
The complaint, which was filed in federal court in Los Angeles, is not evidence of anything, according to Los Angeles lawyer Troy Slaten.
The jury instructions in both civil and criminal cases explain to jurors that the "complaint" is not evidence of anything. What attorneys say, ie in a complaint, is not evidence.
Slaten noted that juries in Los Angeles are told this by the judge before they deliberate in a case. California Civil Jury Instructions #106, CACI reads:
What the attorneys say during the trial is not evidence. In their opening statements and closing arguments, the attorneys will talk to you about the law and the evidence. What the lawyers say may help you understand the law and the evidence, but their statements and arguments are not evidence.
Lead Stories previously debunked claims about Doe v. Trump and Epstein in an article titled Fact Check: Anonymous Did NOT Expose New Documents About A Lawsuit Accusing Donald Trump Of Rape - The Documents For Case 1:16-cv-04642 Are Old And Publicly Available.
Also read: Fact Check: There Is NO Legal Documented Proof That Trump Is A Child Rapist
There were two lawsuit, both filed by the same plaintiff. The first was filed by "Katie Johnson" in California in April 2016 and then in New York apparently by the same plaintiff but identified as Jane Doe in June 2016. The claimed she was 13 when the assault happened.
The case was voluntarily dismissed on September 16, 2016, as the online court record notes.
NOTICE OF VOLUNTARY DISMISSAL Pursuant to Rule 41(a)(1)(A)(i) of the Federal Rules of Civil Procedure, the plaintiff(s) and or their counsel(s), hereby give notice.