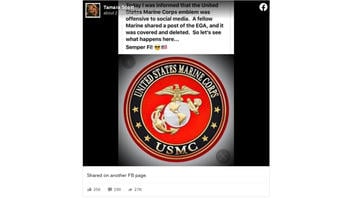 Did Facebook remove a post that featured the U.S. Marine Corps emblem because the emblem was deemed offensive? No, that's not true: Facebook did not label or delete a post for including the Marine Corps emblem, also referred to as the Eagle, Globe, and Anchor (EGA). The emblem can be found on several posts and pages now on Facebook.
The claim appeared in a post (archived here) where it was published on July 5, 2020 with the caption, "Shared on another FB page." The text atop a screenshot of the Marine Corps emblem read:
Today I was informed that the United States Marine Corps emblem was offensive to social media. A fellow Marine shared a post of the EGA, and it was covered and deleted. So let's see what happens here...Semper Fi!
This is what the post looked like on Facebook at the time of writing:
(Source: Facebook screenshot taken on Tue Aug 25 14:13:53 2020 UTC)
The EGA does not violate Facebook's community standards and a Facebook spokesperson told Lead Stories the company is not aware of such a deletion. "We couldn't find an instance of us removing this content," the Facebook spokesperson said in an Aug. 25, 2020 email to Lead Stories.
On its website, the Marine Corps decodes the emblem as follows: the eagle stands for the United States, the globe symbolizes the Marine Corps' worldwide commitments and the "fouled anchor" signifies the Marine Corps' amphibious nature and close ties to the U.S. Navy. The anchor fouled by rope dates to the 1500s and has been used to indicate the daily challenges naval officers face.
Lead Stories conducted a simple Facebook search and found the EGA in users' posts, and at the top of the Marine Corps certified-authentic Facebook page. Facebook did not immediately respond to request for comment on the claim that it had blocked posts bearing the Marine Corps emblem.
Snopes also wrote a fact check on a similar claim, finding that a post was taken down because of adjacent content that violated Facebook's user guidelines, not because of the emblem.
(Editors' Note: Facebook is a client of Lead Stories, which is a third-party fact checker for the social media platform. On our About page, you will find the following information:
Since February 2019 we are actively part of Facebook's partnership with third party fact checkers. Under the terms of this partnership we get access to listings of content that has been flagged as potentially false by Facebook's systems or its users and we can decide independently if we want to fact check it or not. In addition to this we can enter our fact checks into a tool provided by Facebook and Facebook then uses our data to help slow down the spread of false information on its platform. Facebook pays us to perform this service for them but they have no say or influence over what we fact check or what our conclusions are, nor do they want to.)