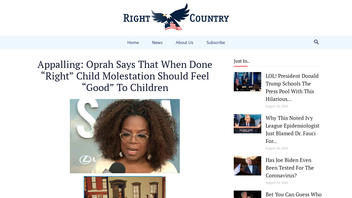 Did Oprah Winfrey say when done "right" child molestation should feel "good" to children? No, that's not true. An article making that claim about Winfrey is false. The talk show host has spoken out on camera about child abuse for many years -- the article pulled out of context two examples of her explaining the way abusers operate, confusing their young victims with actions that, to the very young victim, might feel good without the young victim realizing what was happening.
The story appeared in an article (archived here) where it was published by Right Country on August 10, 2020, under the title, "Appalling: Oprah Says That When Done 'Right' Child Molestation Should Feel 'Good' To Children." It opened:
Oprah is part of this country's elite and this country's elite are full of pedophiles and perverts. She is no exception. The famous talk show host said that if a child molester is "any good" their victims won't even know they're being molested. It will "feel good" to children, Oprah claimed in a segment of one of her special's on sexual abuse in 2017.
Here is what the article looked like when it was posted: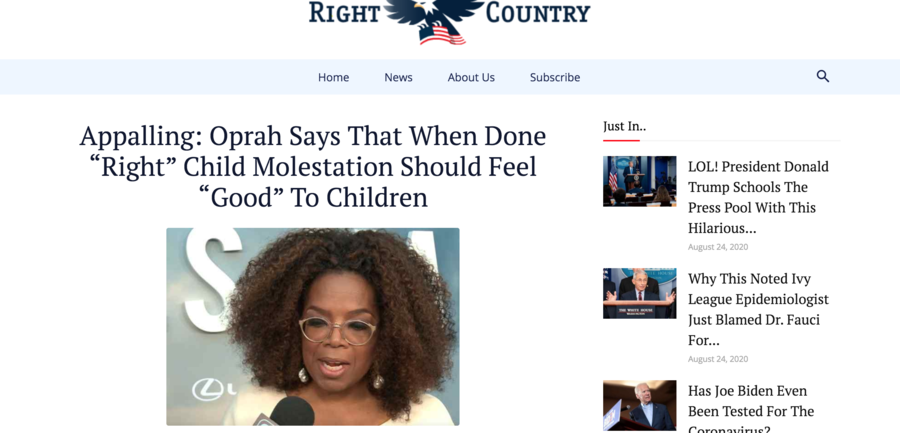 The Right Country article claims Winfrey said abuse will "feel good" to children "in a segment of one of her special's on sexual abuse in 2017." From the article:

This is a downright disgusting thing to assert about child molestation. It's doubtful that any victims of childhood molestation look back and think about how "good" it felt. Since Oprah made the comments in 2017 there was backlash and Oprah was forced to acknowledge such. Here's what Oprah's website says in reference to the disturbing comments and one viewers perspective."
The article is combining two separate instances without being clear. The reference to "comments in 2017" are from Winfrey's 2019 HBO special titled "After Neverland" where she explained the way child sex abusers operate and made the comment about predators' method of abuse. Here is part of what Winfrey said:

So this is what so many people don't understand. A big part of the confusion and shame for child victims is that the attention and the seduction from the predator who is probably going to be somebody you know, right? In order for it to work it has to be somebody you know, somebody you admire, somebody you respect or maybe even love. And it feels good."

The claim in Right Country's article that she was "forced to acknowledge" backlash does not correspond to these comments. Instead, a link in the article goes to a post on Winfrey's website from 2010 -- again not 2017. In 2010 she hosted a four-part special on child sexual abuse, expressing the same sentiment. This is the quote from Winfrey's website posted in April 2010:

One comment Oprah made during her interview with four child predators touched a nerve with some viewers. During the discussion, Oprah said if an abuser does his or her job well, the abuse feels good. This can add to a victim's feelings of shame and confusion."
The article then shares the comments a child sex abuse victim shared, which were taken directly from Winfrey's website in the post from 2010.

A survivor of sexual abuse, Diane, calls in to share a differing viewpoint, based on her own violent childhood. "I just wanted to make people aware that it's not always that you're going to feel good or get pleasure from [sexual abuse]. A lot of times, it's fear and intimidation. It's abuse," she says. "It's the fear of being beat again. It's the abuser using abuse to get you to do what they want."