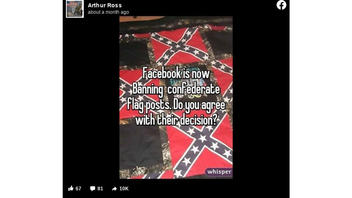 Did Facebook ban Confederate flag posts? No, that's not true: By its very existence on Facebook with the flag, this post disproves its own claim. This style of post is engineered to play on people's outrage and invites them to comment. This is a common type of "engagement-bait." This post may have a false label because it the claim the flag had been banned is false, not because the flag has been banned.
The claim appeared on Facebook in July 2020. One post (archived here) was published on July 14, 2020 without any captioning. The text on the meme read:
Facebook is now Banning confederate flag posts. Do you agree with their decision?
This is what the post looked like on Facebook at the time of writing:
(Source: Facebook screenshot taken on Wed Aug 12 14:02:45 2020 UTC)
A quick search will reveal there exist hundreds of Facebook pages and groups dedicated to or featuring the Confederate battle flag, or the "Rebel flag." Below is a small sampling:



Lead Stories has covered similar engagement-bait falsehoods designed to play on people's outrage.
Fact Check: Facebook Did NOT Ban Posting Of The Lord's Prayer
Fact Check: Facebook Did NOT Say That If You Support The NRA You Will Get Kicked Off


(Editors' Note: Facebook is a client of Lead Stories, which is a third-party fact checker for the social media platform. On our About page, you will find the following information:
Since February 2019 we are actively part of Facebook's partnership with third party fact checkers. Under the terms of this partnership we get access to listings of content that has been flagged as potentially false by Facebook's systems or its users and we can decide independently if we want to fact check it or not. In addition to this we can enter our fact checks into a tool provided by Facebook and Facebook then uses our data to help slow down the spread of false information on its platform. Facebook pays us to perform this service for them but they have no say or influence over what we fact check or what our conclusions are, nor do they want to.)