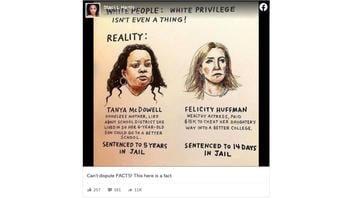 Does white privilege explain why Tanya McDowell, a black mother, got five years in prison for fraudulently sending her son to a better school while white actress Felicity Huffman only got 14 days in jail for her role in a college-admissions scandal meant to help her daughter? No, that's not true: While McDowell did plead guilty to larceny after enrolling her 6-year-old son in a Norwalk, Connecticut, public school, while she lived in Bridgeport, the five-year prison sentence she received in 2012 was the result of a plea agreement that also included drug charges. And a previous criminal record likely didn't help McDowell's case.
The attempt to compare the crimes committed by two mothers, who both claimed the motivation of wanting the best education possible for their children, appeared in memes, including one that features side-by-side drawings of the two moms like this one (archived here) which was published on Facebook on June 4, 2020. It opened:
Can't dispute FACTS! This here is a fact
This is what the post looked like on Facebook at the time of writing:
The text of the meme read:
WHITE PEOPLE: WHITE PRIVILEGE ISN'T EVEN A THING! REALITY:

TANYA McDOWELL
Homeless mother, lied about school district she lived in so her 6-year-old son could go to a better school.
SENTENCED TO 5 YEARS IN JAIL

FELICITY HUFFMAN
Wealthy actress, paid $15K to cheat her daughter's way into a better college.
SENTENCED TO 14 DAYS IN JAIL
McDowell gained widespread sympathy and helped call out disparities in education when she was arrested in 2011 for using an address that was not hers to enroll her son in a Norwalk elementary school. As was reported at the time by the Connecticut Post, she was "the first parent in memory to be prosecuted for the offense in Norwalk," a point that raised questions about racial discrimination and galvanized activists. She faced "a maximum penalty of 20 years in prison" and a fine "up to $15,686 -- the amount the city, state and federal government spends annually on students," both of which seemed excessive to protesters.
But not long after that arrest, while she was out on bond, McDowell was arrested again: this time in Bridgeport for allegedly selling, on two occasions, marijuana and crack cocaine to an undercover police officer.
She pleaded guilty to larceny and drug charges, accepting a plea deal to serve a five-year sentence. A March 27, 2012, Connecticut Post report from her sentencing began this way:
Even as she faced sentencing Tuesday for twice selling drugs to an undercover police officer, Tanya McDowell vowed she would continue to fight for a better education for her young son.

"Who would have thought that wanting a good education for my son would put me in this predicament?" McDowell lamented as she stood handcuffed before Superior Court Judge Frank Iannotti. "I have no regrets seeking a better education for him, I do regret my participation in this drug case."
The judge then responded, "that the Norwalk case had nothing to do with why McDowell was before him," according to the report. Iannotti said, according to the news report, "This case is about the convictions for the sale of narcotics to an undercover police officer."
McDowell's five-year prison sentence was not simply about giving a fake address to get her son into a better school. It was complicated by other charges and her criminal history, which may have worsened her deal. A Snopes report comparing the stories of McDowell and Huffman included this:
"A person's prior criminal history is taken into consideration in determining any subsequent plea agreement and the corresponding sentence," Mark Dupuis, spokesman for the Connecticut state division of criminal justice told us in an email.
Huffman, who was a first-time offender, pleaded guilty to fraud, after paying $15,000 to improve her daughter's SAT exam score. She ended up serving just 10 of the 14 days she was sentenced to, paid a $30,000 fine and was ordered to complete 250 hours of community service.