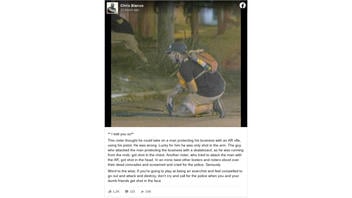 Was Kyle Rittenhouse just protecting his own business in Kenosha, Wisconsin, when he allegedly shot at a crowd protesting the police shooting of Jacob Blake? No, this is not true. Rittenhouse, seen armed with a semi-automatic rifle, was with a group of armed people in front of a boarded-up gas station at the time. There is no evidence that he owned the business -- or any business in Kenosha, according to Wisconsin state records. The 17-year-old Rittenhouse, arrested on charges of first-degree intentional homicide, lived in Antioch, Illinois, which is about 20 miles and a half-hour drive from the protests.
The claim that Rittenhouse was protecting his own business appears in a post (archived here) put on Facebook on August 26, 2020, saying "**I told you so**," and beginning:
This rioter thought he could take on a man protecting his business with an AR rifle, using his pistol. He was wrong. Lucky for him he was only shot in the arm.
This is what the post looked like on Facebook at the time of writing:
(Source: Facebook screenshot taken on Thu Aug 27 13:15:35 2020 UTC)
The post continued:
The guy who attacked the man protecting the business with a skateboard, as he was running from the mob, got shot in the chest. Another rioter, who tried to attack the man with the AR, got shot in the head. In an ironic twist other looters and rioters stood over their dead comrades and screamed and cried for the police. Seriously.

Word to the wise; If you're going to play at being an anarchist and feel compelled to go out and attack and destroy, don't cry and call for the police when you and your dumb friends get shot in the face.
The narrative in the post of the August 26 shootings is false. Rittenhouse -- an apparent high-school dropout who was not old enough to carry a weapon under Wisconsin law -- did not own the gas station where he was standing before he allegedly opened fire with a rifle resembling an AR-15. He allegedly killed two people and seriously wounded a third. Rittenhouse, who according to various news stories, idolized the police, was a police cadet and staunch Blue Lives Matter supporter, was with a "small groups of armed civilians [who] took it upon themselves to defend the town's businesses, with some stationed outside a gas station," according to Insider Intelligence.
The Daily Caller spoke with Rittenhouse before the shooting erupted, and the outlet posted this to Twitter:
I interviewed the alleged shooter before the violence started.

Full video coming soon: pic.twitter.com/G3dVOJozN7

-- Richie🎥McG🍿 (@RichieMcGinniss) August 26, 2020
Here is the full YouTube video posted on Daily Caller's page:
After the shootings, Rittenhouse is seen departing the scene without police intervening, arresting him or even questioning his legality in carrying the weapon:
A 17 y/o white supremacist, Kyle Rittenhouse, drove from Illinois to Wisconsin w/ an AR-15 to TERRORIZE BLM PROTESTORS

He shot several people ended up killing 2. Then is able to casually walk around police as if he didn't just murder!

WHAT THE FUCK?!pic.twitter.com/eSdQm5eJ4Z

-- StanceGrounded (@_SJPeace_) August 26, 2020
In that video, Rittenhouse can be heard saying that he worked at the gas station. But other than his professed belief -- along with that of others armed near him -- that he was there to protect the boarded-up gas station and other businesses, there is no immediate evidence that Rittenhouse actually worked there, or that he owned the business.
The New York Times pieced together multiple videos taken the night of the shootings, and put together this video analysis of the incident.
Rittenhouse allegedly opened fire on a crowd protesting 29-year-old Blake's shooting. Officers were seen on video shooting Blake seven times in the back as he was entering an SUV, with his kids screaming that he was their father. The Civil Rights Division of the Department of Justice has announced an investigation into the August 23 shooting of Blake, who is currently paralyzed from the waist down.