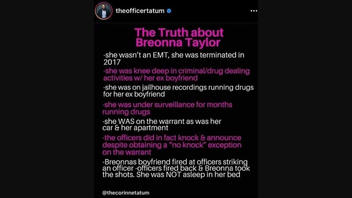 Does a meme promising the "truth about Breonna Taylor" include only proven facts? No, that's not true: The meme contains several claims that are false, misleading or in dispute. For example, she was not terminated from her job as an EMT in 2017. Her alleged involvement in the drug trade is in doubt -- no drugs or money were found at her home. Finally, whether or not police identified themselves at Taylor's door is in question. Officers have said that they did, though only one witness reportedly confirmed their account.
The meme appeared in a post (archived here) on Instagram on June 25, 2020. Under the title, "The Truth About Breonna Taylor," it opened:
she wasn't an EMT, she was terminated in 2017
she was knee deep in criminal/drug dealing activities w/ her ex boyfriend
she was on jailhouse recordings running drugs for her ex boyfriend
This is what the post looked like at the time of writing:
The meme includes seven claims. We'll take them one by one. Up front, it's important to note that authorities and activists, alike, have characterized Taylor's death as a tragedy. Nothing in the following is meant to take away from that fact.
Claim: "She wasn't an EMT, she was terminated in 2017"
The first part of this claim is correct. At the time of her death, Taylor was not working as an EMT, an emergency medical technician. She was working as an emergency room technician in Louisville.
The second part of the claim is wrong. She was not terminated in 2017. According to WAVE 3 News, which cited Taylor's personnel file, Taylor worked for the City of Louisville (Kentucky) between January and November of 2016. She was promoted to be an EMT in June of that year and remained in the role until she resigned in November, WAVE 3 News reported. It also reported that Taylor's file included a form with a box checked stating "do not rehire." There was no reason provided as to why that box was checked.
Claim: "She was knee deep in criminal/drug dealing activities w/ her ex boyfriend"
This claim is contested at best. Taylor had no criminal record and was never the main target of an investigation. She was caught up in one, however, because of her relationship with Jamarcus Glover. They'd dated and remained in contact. Glover was a target of the drug investigation that eventually led to Taylor's death.
An affidavit for a search warrant cited purported connections between Taylor and Glover to establish probable cause to search her apartment. According to the New York Times, they were as follows: Glover's car made trips between her home and an alleged drug house; Taylor's car appeared in front of an alleged drug house; Glover left Taylor's home carrying a package; he listed her address as his home address and used it to receive packages (this was later contradicted by a U.S. postal inspector in Louisville).
Authorities thought they might find drugs or money at Taylor's apartment. They found neither.
Glover later told The Courier Journal that Taylor had nothing to do with the drug business. He said:
There was nothing never there or anything ever there, and at the end of the day, they went about it the wrong way and lied on that search warrant and shot that girl out there.
Claim: "She was on jailhouse recordings running drugs for her ex boyfriend"
Jailhouse recordings do not prove that Taylor was trafficking drugs. They do merit a brief mention, however.
In a recording made shortly after Taylor's death and his arrest, Glover told a girlfriend that Taylor had been holding $8,000 for him and that she'd been "handling all my money," The Courier Journal reported. He later told the newspaper that that wasn't true. Again, authorities did not find money or drugs at her apartment.
In another recording -- this one between Glover and Taylor back in January, when Glover was arrested on trafficking and weapons charges -- he asked Taylor for help to get bail money. They said "love you" to each other at the end of the call, which is significant because it suggests a closeness in their relationship. An attorney for the Taylor family had initially downplayed their connection, saying that Glover and Taylor had maintained a "passive" friendship. In an email to The Courier Journal, the attorney later apologized for the mischaracterization. Still, the simple presence of a relationship between Glover and Taylor does not prove that she was "running drugs" for him.
Claim: "She was under surveillance for months running drugs"
Taylor was not the target of the narcotics investigation that eventually led to her death, but was part of it through her association with Glover. For more than two months before her death, authorities surveilled addresses where Glover was thought to operate as well as Taylor's apartment, according to The New York Times. She was reportedly photographed in front of an alleged drug house.
Claim: "She WAS on the warrant as was her car & her apartment"
This is true. Police had a search warrant for Taylor's apartment and for her. The warrant also mentioned a car that was registered to Taylor.
Claim: "The officers did in fact knock & announce despite obtaining a 'no knock' exception on the warrant"
Out of all the meme's claims, this one may the one most contentious.
There's no doubt that police obtained approval for a no-knock entry, though various publications have reported that the order changed before the raid to knock-and-announce, meaning the police had to identify themselves. Either way, Kentucky Attorney General Daniel Cameron has said that the warrant was not actually served as a no-knock warrant. Here's Cameron:

The officers were advised by superiors to knock and announce their presence in serving this specific search warrant ... Evidence shows that officers both knocked and announced their presence at the apartment. The officers' statements about their announcement are corroborated by an independent witness.
Kenneth Walker, Taylor's boyfriend who was with her at the time of the shooting, has said he did not hear anything. The New York Times spoke to nearly a dozen of Taylor's neighbors. Just one reported hearing police announce themselves and he only heard the officers say it once, the newspaper reported. It's unclear if that witness and the witness referred to by Cameron is the same person.
In the wake of Taylor's death and the resulting protests, the Louisville Metro Council banned the use of no-knock warrants.
Claim: "Breonnas boyfriend fired at officers striking an officer -officers fired back & Breonna took the shots. She was NOT asleep in her bed"
This is true, though lacking context.
Taylor and her boyfriend, Walker, were at her apartment the night of the deadly raid. Officers breached the door and Walker, who has said he didn't know they were police and feared intruders, fired one shot, striking an officer in the leg. Officers returned fire, shooting more than 30 times between them. Walker was not hurt but Taylor was stuck several times. She died in the hallway of her apartment.
The two officers who shot Taylor were not charged in her death. A grand jury indicted a third officer involved on three counts of wanton endangerment.