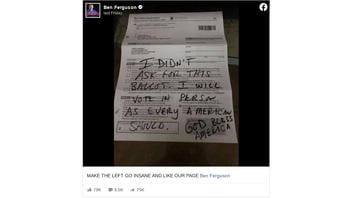 Does a photo show a mail-in-ballot that a voter did not request? No, not in this photo. It is clear that this is an application for a mail-in-ballot, and not the ballot itself. If this person wanted an actual ballot to vote by mail, they would need to fill out the form and send the application in by the deadline to request a ballot in their state. If they are properly registered, a ballot would be mailed to them.
The claim appeared as a photo posted by the Facebook page "Ben Ferguson" on September 18, 2020 (archived here) with caption, "MAKE THE LEFT GO INSANE AND LIKE OUR PAGE Ben Ferguson." The photo of a mail-in-ballot application form had a handwritten message in black marker across the whole application. That handwritten message said:
"I didn't ask for this ballot. I will vote in person as every American should. God Bless America"
This is what the post looked like on Facebook at the time of writing:
(Source: Facebook screenshot taken on Thu Sep 24 17:39:04 2020 UTC)
But it's not a ballot. It's an application for a ballot.
Below is a detail of the form in the photo, it clearly says "Mail Ballot Application." In the state where this originated, the deadline to send in the application for a mail-in ballot for the upcoming General Election is October 13, 2020. There is no need to deface or reject the application for a mail-in-ballot, if a person plans to vote in person, they can simply ignore the application.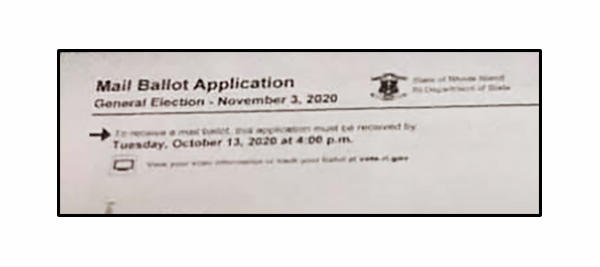 Not every state requires voters to fill out an application to receive a vote-by-mail ballot. There are nine states plus the District of Columbia that are sending a vote-by-mail ballot automatically to registered voters. Those states are Vermont, Nevada, California, New Jersey, Colorado, Hawaii, Utah, Washington and Oregon.
The official U.S. government website for voting information pertaining to absentee and early voting is here: www.usa.gov/absentee-voting
Because the rules are different in every state, this link can be used to find specific state information about the vote-by-mail practices: www.usa.gov/election-office