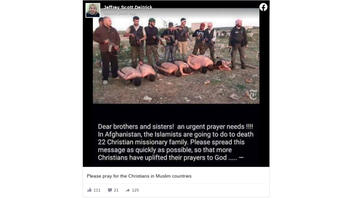 Did Afghani Islamic militants execute 22 Christians? No, that's not true: This claim, with a variety of photos, has been making the rounds on social media since it surfaced in February 2009, and has been debunked even by groups dedicated to protection of Christians in minority-Christian regions. No news reports or human rights groups have verified the claim. The photo used in this version was lifted from a New York Times report about a 2013 massacre of Syrian soldiers by rebel forces in Syria.
The claim originated in emails and texts and later appeared in a post (archived here) on Facebook on Sept. 12, 2015 under the title "Please pray for the Christians in Muslim countries". It opened:
Dear brothers and sisters! an urgent prayer needs!!!! In Affghanistan, the Islamists are going to do to death 22 Christian missionary family. Please spread this message as quickly as possible, so that more Christians have uplifted their prayers to God .....
This is what the post looked like on Facebook at the time of writing:
(Source: Facebook screenshot taken on Fri Sep 18 18:17:48 2020 UTC)
Here is the photo as it appeared in a New York Times' report about the Syrian Civil War on Sept. 5, 2013. The caption and the story both describe the photo as an image from a video that showed Syrian rebels killing captured Syrian Army soldiers.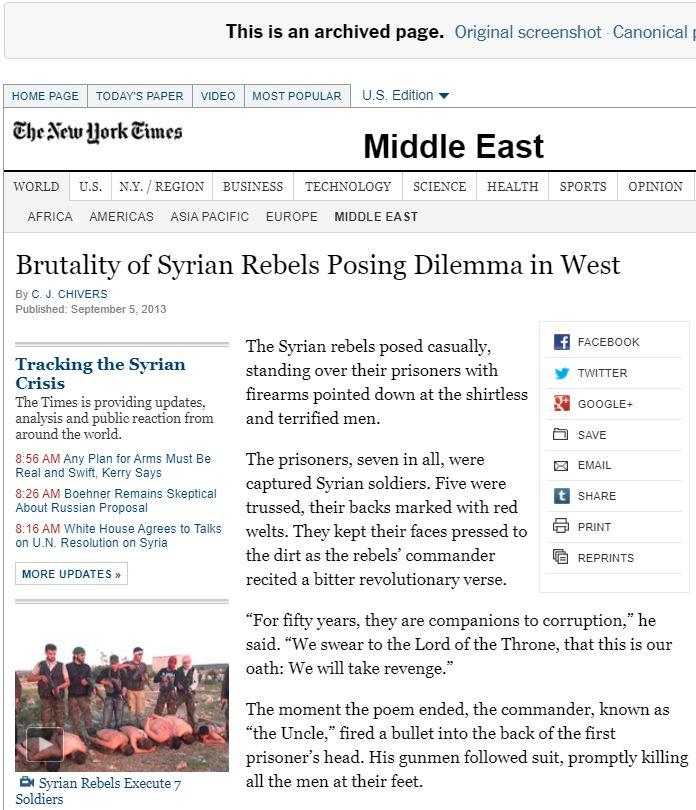 (Source: NYT.com screenshot taken on Fri Sep 18 00:03 2020 UTC)
For more than a decade, several sites have disputed the authenticity of the assertion that "22 Christians" were executed as well as the accompanying photos.
A Facebook posting on Nov. 10, 2009 by a group called Open Doors South Africa, which says it supports persecuted Christians worldwide, labeled it "a hoax."
SMS hoax alert: "There are 22 Christian missionary families that will be executed by Islamists in Afghanistan, please forward this message as fast as you can so that many will pray." This sms is an old message and a hoax. Please don't react to this sms and please reply to the sender that this information is outdated.
One week later, the Snopes fact-checking website also debunked the contention, labeling it "False."
These messages are apparently unfounded: The same message has been making the rounds since February 2009, yet we never turned up any information from news reports or human rights groups documenting that 22 missionaries and their families were being held captive, or were (about to be) executed, in Afghanistan.
In December 2010, an organization called Church in Chains, which says it is an Irish voice for persecuted Christians, called it a "hoax message that has been circulating for well over a year."
Church in Chains has checked the many reliable sources that we regularly monitor and there is no basis to this story.
The AFP news agency rejected the claim 10 years later, when it resurfaced.
A decade-old hoax urging people to pray for 22 Christian missionaries facing a death sentence in Afghanistan has re-emerged online, with numerous posts carrying the claim in Africa. One widely-shared recent post includes a photograph which probably shows an execution by Islamists in Iraq, not Afghanistan.
The emails, texts and postings on social media have been accompanied through the years by different photographs.
The AFP article and an August 2019 posting the Africa Check website, also debunking the execution claim, carry a photo of a single man about to be beheaded.
Both sites indicate that photo was taken in Iraq. Africa Check notes that:
According to AFP Fact Check, several elements pointed to the photo being of an Islamic State execution in Iraq. In 2015, IS was in control of a large part of Iraq, including Ninevh. The clothes are similar to those of other IS executioners, and the yellow logo at the bottom right corner is the authentication mark of IS propaganda.
The photo in the September 2015 Facebook posting, which shows five supposed victims kneeling in a road with armed men behind them, bears a NY Times watermark in the lower right-hand corner and matches the photo with a C.J. Chivers report on violence in Syria's civil war.