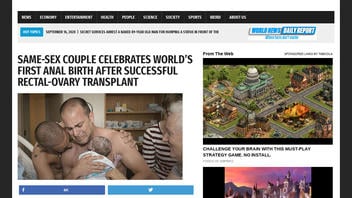 Did a gay couple in Los Angeles have an "anal birth" after a "rectal-ovary transplant"? No, that's not true: the story was made up by a Canadian entertainment website that makes a living by publishing fictional stories often involving weird crimes, bizarre sex acts or strange accidents. It is not real.
The story originated in an article published by World News Daily Report on August 30, 2020 titled "Same-sex couple celebrates world's first anal birth after successful rectal-ovary transplant" (archived here) which opened:
A Los Angeles same-sex couple has successfully given birth anally to a healthy 8.2-pound baby for the first time in history.

The LGBTQ community worldwide has received the news of the rectal birth with open arms as the revolutionary medical procedure could enable millions of fertility-challenged couples to procreate.

James Bent, 37, received donated ovaries from his sister Leila Bent, 32, which were later successfully transplanted into his rectum and which enabled the anal birth to occur.
However the photo used with the story shows a Toronto couple embracing their son Milo who was born from a surrogate mother in 2014, as CBC reported at the time:
The photo by Gananoque, Ont., photographer Lindsay Foster shows BJ Barone and Frank Nelson holding son Milo, born to a surrogate, for the first time. The two dads are shirtless, making skin-to-skin contact with the baby shortly after he was born -- something said to be beneficial to newborns.
The website World News Daily Report is a humor website specialized in posting hoaxes and made up stories. The disclaimer on their website is pretty clear about that even though you have to scroll all the way down the page to find it:
World News Daily Report assumes all responsibility for the satirical nature of its articles and for the fictional nature of their content. All characters appearing in the articles in this website - even those based on real people - are entirely fictional and any resemblance between them and any person, living, dead or undead, is purely a miracle.
On March 20, 2019 the site added a new header that included the slogan "Where facts don't matter" to make it clearer to casual visitors the published content is fictional:

The site often uses images stolen without attribution from real news websites, sometimes showing real people who have nothing to do with the story, for example here:
It is run by Janick Murray-Hall and Olivier Legault, who also run the satirical Journal de Mourréal, a satirical site spoofing the (real) Journal de Montéal. Very often their stories feature an image showing a random crazy mugshot found in a mugshot gallery on the internet or on a stock photo website superimposed over a background of flashing police lights or crime scene tape.
Articles from the site are frequently copied (sometimes even months or years later) by varous fake news websites that omit the satire disclaimer and present the information as real.
NewsGuard, a company that uses trained journalist to rank the reliability of websites, describes worldnewsdailyreport.com as:
A website that publishes hoaxes and made-up stories that are often widely shared and mistaken for news.
According to NewsGuard the site does not maintain basic standards of accuracy and accountability. Read their full assessment here.