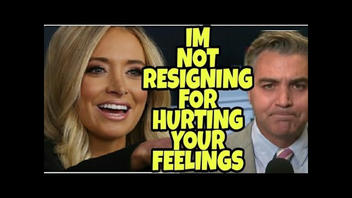 Did CNN demand that Kayleigh McEnany resign as White House press secretary for "perpetuating the lies" of President Trump to the media over COVID-19 health risks? No, that is not true. CNN did not author a piece demanding she step down; it was written by political analyst and former Clinton Press Secretary Joe Lockhart with a clear disclaimer that the piece was the "opinion" of Lockhart -- not that of CNN.
The claim is found in a video (archived here) posted to YouTube on September 12, 2020, titled "CNN DEMANDS KAYLEIGH MCENANY RESIGN." After a brief introduction, the host, Lets be Frank, states:
Of course, a long line of mainstream media-fake news outlets out there crying about the way Kayleigh McEnany absolutely kicks their butt every single time she has a press conference. CNN has now joined the chorus in [calling] for Kayleigh McEnany to resign. That's right, they want her to resign because Jim Acosta hasn't been in a press conference in over a month's time. Last time he was there, he got his butt kicked so bad he went crying back to CNN, refusing to go back. But what is it now about that they want her to resign? It's from this quickest change right here."
Click below to watch the video on YouTube:
The nearly six-minute video by user "Lets be Frank" gets it wrong. CNN never took editorial credit for Lockhart's Sept. 11 piece, which was titled "Kayleigh McEnany has crossed a line" and says "Opinion" directly under Lockhart's byline. The story also comes with a clear Editor's Note at the bottom to let the audience know that:
Joe Lockhart is a CNN political analyst. He was the White House press secretary from 1998-2000 in President Bill Clinton's administration. He co-hosts the podcast "Words Matter." The opinions expressed in this commentary are his own. View more opinion at CNN."
Lockhart was taking issue with McEnany's answer to questions about comments made by Trump on the record in February during interviews with journalist and author Bob Woodward that were recorded. In the recordings, Trump acknowledges to downplaying the threat of the novel coronavirus, despite the president having knowledge that it was airborne, deadly and an enormous threat to public health. Trump admits as much repeatedly in the recordings, saying, among other things:
I always wanted to play it down. I still like playing it down, because I don't want to create a panic."
At the news conference, as the YouTube video shows, McEnany was pressed on the issue, and insisted that Trump was being a leader by projecting calm, and she continued to deny that Trump had misled the public.
It is for this refusal to acknowledge any error on the part of Trump that McEnany comes under attack in Lockhart's opinion piece. He writes:
Press Secretary Kayleigh McEnany faced her moment of reckoning in the briefing room on Wednesday, when reporters confronted her about the recordings, released by veteran journalist Bob Woodward, in which President Trump acknowledged in early February that the coronavirus was airborne and deadlier than the flu, even as he publicly dismissed concerns about the virus and called it the Democrats' "new hoax." In March, Trump told Woodward that he intentionally downplayed the dangers of the virus, saying, "I always wanted to play it down. I still like playing it down, because I don't want to create a panic.

McEnany failed on an epic scale in her response. She did not provide context for Trump's statements. Instead, she perpetuated the lies even the President himself admitted to Woodward on tape."
He also states:
McEnany, however, has shown she is more interested in defending the President than informing the public, and her only recourse now is to resign."
The creator of the YouTube video seized on this last clause "only recourse is to resign," and said CNN -- in the creator's mind, a leftist-fake news media outlet given to the same "lies" found in all "mainstream media" -- had, as a company, called for McEnany's resignation.
This is simply not true. CNN itself has never demanded such. Lockhart did. Moreover, the proof that it was an opinion piece and not reflectives of the views of CNN is found in the fact that the Editor's Note was up before the video was made, as the following archive of the story shows: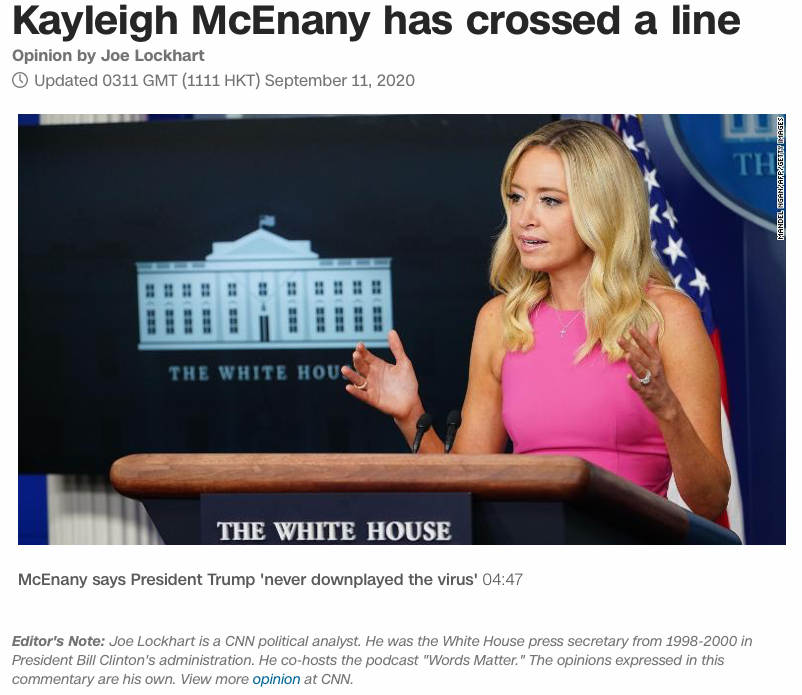 Lets be Frank's video ran the next day. According to the creator's About Page, Lets be Frank live-streams on Tuesdays, Thursdays and Saturdays at 10 p.m. EST. So, while Lockhart wrote his piece on September 11, a Friday, Lets be Frank ran the video a full day later and never-minded the Editor's Note or the clear word "Opinion" below Lockhart's byline.
Even with the added day, the video got it wrong. The editorial team at CNN, which makes the news judgements of its reporters, writers and producers, never claimed this was their view.
The comments in question are also found on the Indepndent's YouTube channel here: