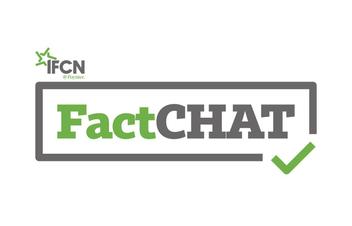 The project, FactChat, will lead to the creation of a WhatsApp chatbot and two Spanish-language fact-checking units.
ST. PETERSBURG, Fla. (Sept. 18, 2020) -- Led by the International Fact-Checking Network (IFCN) at the Poynter Institute, FactChat is the first collaborative project to unite 10 U.S. fact-checking organizations with two major Spanish-language news broadcasters to fight mis/disinformation during a presidential campaign. This bilingual alliance will expose the record 32 million Latino voters in the U.S. to accurate election-related information from Sept. 15, 2020 through Inauguration Day in 2021. This effort is supported by WhatsApp.
The 10 English-language fact-checking organizations participating in FactChat are:
AFP
Check Your Fact
FactCheck.org
Lead Stories
MediaWise
PolitiFact
The Dispatch
The Washington Post Fact Checker
Science Feedback
USA Today
The two Spanish-language networks, which will be developing their own fact-checking units throughout the project, are:
Noticias Telemundo
Univision
"I don't think anyone ever expected that all the competing U.S. fact-checking units would work together in such a large-scale, coordinated alliance," said Baybars Örsek, director of the IFCN. "But collaboration is the only way to combat the massive mis- and disinformation campaigns we are seeing ahead of the presidential election that are specifically targeted at Spanish-speaking voters and other international, immigrant groups in this country. I am proud to help lead this effort and do what we can to uphold the integrity of the American democratic system."
U.S fact-checking partners will continue to publish their daily fact checks focused on the presidential campaign, and Telemundo and Univision will now translate this content and republish it on their own websites. All fact-checks will also be available on a WhatsApp chatbot.
"WhatsApp is proud to support the IFCN and its verified signatories with the launch of the FactChat service for WhatsApp users, said Ben Supple, Head of Civic Engagement at WhatsApp. "FactChat is a powerful tool to empower our users to help them find accurate, timely and verified information, and easily share it right where they are already chatting with their friends and family."
All partners agreed to use a standardized rating scale for the project. Voters will not have to understand the differences between a Four-Pinocchio and a Pants on Fire rating to learn if something is fact or fiction.

As the founder and moderator of FactChat, the IFCN will upload both the English and Spanish fact-checks into a new FactChat chatbot on WhatsApp. The chatbot, developed by Turn.io, is free for all WhatsApp users. Many of the U.S Hispanic population uses WhatsApp, making it one of the more popular messaging apps in the country today.
Talk to the FactChat chatbot now: in English / en Español
"I see this project as primarily serving voters and citizens, but I am also excited for the ripple effect FactChat will have in the Spanish-lanuage news environment," said Cristina Tardaguila, associate director of the IFCN. "We will create two new fact-checking units within Telemundo and Univision. Other news outlets watching the U.S. election in other countries will also turn to FactChat for accurate information, ensuring our impact is truly global."
FactChat also relies on Google's FactCheck Read/Write and Claim Search APIs to populate the chatbot with fact checks published with ClaimReview, the schema created by the Duke Reporters' Lab and Jigsaw, Google, and schema.org through an open process involving the global fact-checking community to improve the visibility of fact checks in the open web.
About the Poynter Institute
The Poynter Institute for Media Studies is a global leader in journalism education and a strategy center that stands for uncompromising excellence in journalism, media and 21st-century public discourse. Poynter faculty teach seminars and workshops at the Institute in St. Petersburg, Florida, and at newsrooms, conferences and organizations around the world. Its e-learning division, News University, offers the world's largest online journalism curriculum, with hundreds of interactive courses and tens of thousands of registered international users. The Institute's website produces 24-hour coverage about media, ethics, technology and the business of news. Poynter is the home of the Craig Newmark Center for Ethics and Leadership, the Pulitzer Prize-winning PolitiFact, the International Fact-Checking Network and MediaWise, a digital information literacy project for young people, first-time voters and senior citizens. The world's top journalists and media innovators rely on Poynter to learn and teach new generations of reporters, storytellers, media inventors, designers, visual journalists, documentarians and broadcasters. This work builds public awareness about journalism, media, the First Amendment and discourse that serves democracy and the public good. Learn more at poynter.org.