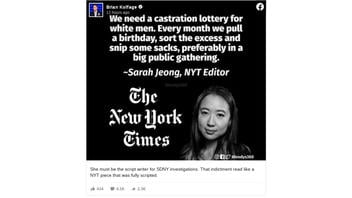 Did Sarah Jeong say, "We need a castration lottery for white men"? No, that's not true: This is a fake quote attributed to Jeong, a former member the New York Times editorial board. Jeong made news when internet trolls, with whom she has battled, dug up her old tweets that criticized "white people" and then weaponized them against her. Jeong never posted about a "castration lottery for white men," however.
The claim appeared in a Facebook meme (archived here) published on September 20, 2020 by Brian Kolfage's "official fan page" with the caption, "She must be the script writer for SDNY investigations. That indictment read like a NYT piece that was fully scripted." Kolfage was recently indicted in the U.S. Attorney's office for the Southern District of New York (SDNY) for defrauding hundreds of thousands of donors to his online crowdfunding border wall campaign We Build the Wall that raised over $25 million. The meme read:
We need a castration lottery for white men. Every month we pull a birthday, sport the excess and snip some sacks, preferably in a big public gathering. ~ Sarah Jeong, NYT Editor
This is what the post looked like on Facebook at the time of writing:
(Source: Facebook screenshot taken on Mon Sep 21 14:02:55 2020 UTC)
This is not the first time fake quotes have been pinned on Jeong. Shortly after the New York Times announced in 2018 it was hiring Jeong, her old tweets starting re-circulating along with some fabricated quotes such as the "castration lottery" quote. Some of the earliest versions of these memes were found in 4chan threads, online fact-checker Snopes.com reported. Since then, similar iterations of the false memes continue to circulate.
The federal indictment accuses Kolfage of falsely telling donors all funds raised by the online crowdfunding campaign would be spent to build the border wall, but he allegedly kept a sizable chunk of the money for himself and his alleged co-conspirators, one of whom is former White House Chief Strategist Steve Bannon. Kolfage, Bannon and two others were each charged with one count of conspiracy to commit wire fraud and one count of conspiracy to commit money laundering on August 20, 2020.
In the week following Kolfage's indictment, he made at least a dozen Facebook posts about the case from the same account that posted the false meme about Jeong. On August 28, lawyers from the U.S. Attorney's office in Manhattan wrote a letter to a federal judge asking her to push Kolfage to stop making these "highly inflammatory" Facebook posts to his 638,000-plus followers, as they could interfere with the case.