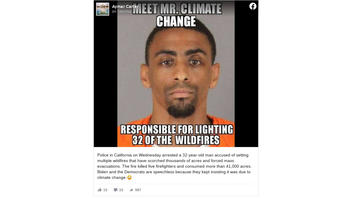 Was a 32-year-old California man, dubbed 'Mr. Climate Change' online, responsible for starting 32 wildfires in 2020? No, that's not true: The man pictured in the meme is Brandon McGlover, who admitted he started nine Southern California fires in 2018. McGlover could not have been involved in lighting any fires in 2020 since he has been locked up in a prison in Stockton, California, since February 2019.
The claim appeared in a meme shared on Facebook on September 20, 2020, including in a post (archived here) The meme featured a mugshot of McGlover with the text "MEET MR. CLIMATE CHANGE, RESPONSIBLE FOR LIGHTING 32 OF THE WILDFIRES". An introductory message with the meme read:
Police in California on Wednesday arrested a 32-year-old man accused of setting multiple wildfires that have scorched thousands of acres and forced mass evacuations. The fire killed five firefighters and consumed more than 41,000 acres.
Biden and the Democrats are speechless because they kept insisting it was due to climate change.😳
This is what the post looked like on Facebook at the time of writing:
(Source: Facebook screenshot taken on Mon Sep 21 18:16:47 2020 UTC)
This is a screenshot of the meme: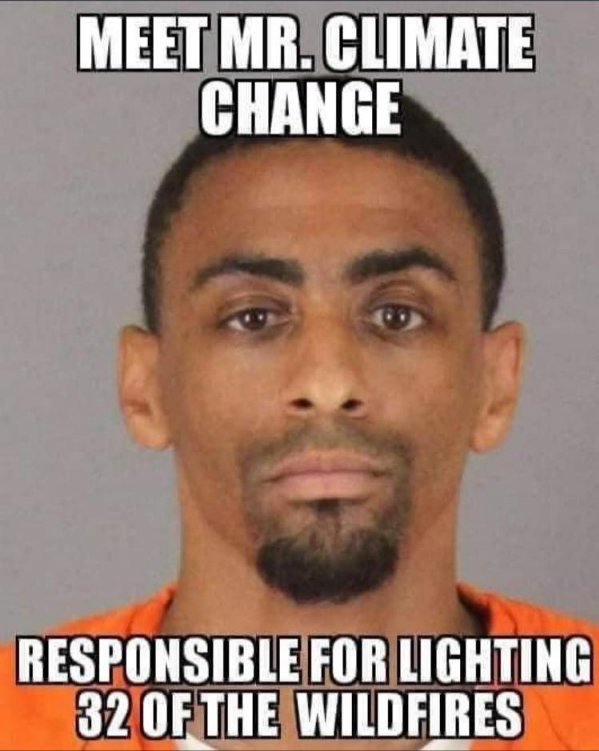 The historic number and size of western wildfires in August and September 2020 sparked a debate over the role of global climate change in the intensity of the blazes. Conservative activists and internet trolls have argued, without evidence, that liberal politicians and conservationists have covered up cases of wildland arson. The "Mr. Climate Change" meme appears to be either satire or an effort to undermine those who say climate change made the fires of 2020 more intense.
In this case, the human has a great alibi. Brandon McGlover, who was arrested for igniting the Cranston Fire in July 2018, was sentenced to a dozen years in prison after pleading guilty in January 2019, according to a local news website:
The change in plea comes after a preliminary hearing in November that revealed eyewitness evidence and CAL FIRE investigative materials alleging he used a BBQ lighter and a can of WD-40 to lite the nine fires that tore across 13,000 acres near Idyllwild, Anza and Sage.

He pleaded guilty to two charges of arson of wildland and one enhancement of multiple destroyed structures. McGlover initially faced one count of damage to five or more inhabited structures, nine counts of arson for uninhabited structures and five counts of arson for inhabited structures.
Lead Stories accessed California prison records Sept. 21, 2020, which show McGlover had been locked up since Feb. 22, 2019, almost 18 months before the record-setting fire season of 2020. (Link requires user to agree to use policies before accessing records.)