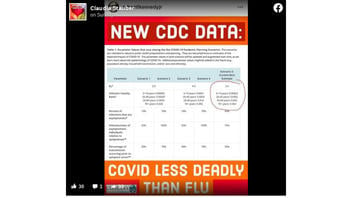 Did the U.S. Centers for Disease Control and Prevention downgrade COVID-19, rating it less fatal than seasonal flu? No, that's not true: The Sept. 10, 2020, document used as "proof" clearly states it is not a source of COVID data, and that it was created with multiple variables to help hospitals and public health officials build mathematical simulations to test how strong and weak outbreaks of COVID-19 could impact communities.
The claim appeared in a meme in a Sept. 27, 2020, Facebook post (archived here) under the title "NEW CDC DATA." It opened:
COVID LESS DEADLY THAN FLU
This is what the post looked like on Facebook at the time of writing:
(Source: Facebook screenshot taken on Mon Sep 28 19:55:06 2020 UTC)
The meme carrying the frequently debunked claim that flu is worse than COVID-19 has been circulated by @PresidentDonaldTrumpFanPage and by Children's Health Defense, the anti-vaccine organization founded by Robert F. Kennedy, Jr. Kennedy, a lawyer not a physician, is the nephew of President John F. Kennedy and son of the late liberal icon, Attorney General Robert F. Kennedy. By mid-afternoon on the East Coast on Sept. 28, 2020, the Trump fan page had raised privacy walls around the post.
Circled in red on the meme's screenshot of a chart from an eight-page CDC document are "infection fatality rates" -- one measure of the lethality of infectious disease -- for four age groups, rates well below the commonly accepted fatality estimates.
That CDC document, "COVID-19 Pandemic Planning Scenarios," is a Sept. 10, 2020, update of a document created May 20, 2020, to help public health agencies that use numbers-driven computer modeling to play out a variety of scenarios to pre-test their plans for handling disease outbreak.
Whoever built the meme ignored the CDC's prominent note about the parameters of all five test-case scenarios:
The parameters in the scenarios:

Are estimates intended to support public health preparedness and planning.
Are not predictions of the expected effects of COVID-19.
Do not reflect the impact of any behavioral changes, social distancing, or other interventions.
The document clearly warns users that its numbers, specifically the by-age-group infection fatality rate, are for the purposes of building computer models:
...information about the biological aspects of SARS-CoV-2 and epidemiological characteristics of COVID-19 remain limited, and uncertainty remains around nearly all parameter values. For example, current estimates of infection-fatality ratios do not account for time-varying changes in hospital capacity (e.g., in bed capacity, ventilator capacity, or workforce capacity) or for differences in case ascertainment..."
Ruth Etzioni, a Ph.D. biostatistician and professor at the University of Washington School of Public Health told Lead Stories that Kennedy's and Trump's followers are misusing the numbers on the document:
It's not data. It's like some made-up numbers to test out some planning scenarios."
In a Sept. 28, 2020, phone interview, Etzioni said people who try to compare flu fatality statistics with COVID-19 statistics are ignorant of or ignoring major differences in the data, as well as in the nature of the diseases, a topic she covered in depth for a biostatistics blog called "Timmerman Report."
For starters, she said, seasonal influenza rarely kills more than one person in a family, while she is starting to see case data showing COVID-19 does. More importantly, the statistician said, seasonal flu data were collected when there was no quarantines, social distancing, mask-wearing, or business shutdowns and when there was a vaccine for seasonal flu. In stark contrast to that context, COVID statistics are affected by the fact that there has been widespread mask-wearing, social distancing rules, business shutdowns and travel restrictions.
She said it's just too early in this pandemic for statisticians to know what is the infection fatality ratio. In the meme, that "data" is circled in red.
I can tell you the infection fatality ratio among people who end up in the hospital. I can tell you the infection fatality ratio among people who test positive. I don't know if I could do it by age. The problem is that there are many infections that that have never tested positive. And there are death that have happened (that were not counted) ...So there's more infections than we know about."
Dr. Anthony Fauci, director of the National Institute of Allergy and Infectious Diseases, has estimated, without using "infection fatality rate" specifically, that COVID-19 is about 10 times more lethal than seasonal flu. In March, Fauci told Congress: "I think if you count all the cases of minimally symptomatic or asymptomatic infection, that probably brings the mortality down to around 1%, which means this is 10 times more lethal than the seasonal flu."
That is consistent with what other infectious disease experts have said about COVID-19. According to CDC data, the preliminary estimate of seasonal flu deaths during the 2019-2020 flu season is between 24,000 and 62,000. As of Sept. 10, 2020, the COVID-19 death tally is 204,328 and the pandemic is not yet over.
When conspiracists like Kennedy and political partisans like @PresidentDonaldTrumpFanPage dismiss COVID-19 case counts or argue seasonal flu kills more people, public health experts have begun directing people to look at the average mortality counts for a given country and compare that expected number of deaths to the actual number. That difference, called "excess deaths," shows many more deaths this year than expected, at a time when no new public health menace other than COVID-19 is afoot.