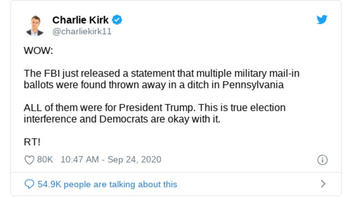 Did the FBI release a statement saying that "multiple" military mail-in ballots were found thrown away in a ditch in Pennsylvania? No, that's not true: First, the FBI never said anything about Pennsylvania ballots. The U.S. attorney for the Middle District of Pennsylvania did release an unusual statement on September 24, 2020, that said that nine ballots that had been cast for Donald Trump were found in a waste basket, but that statement was deleted from the Justice Department website (dead link here) hours later and an updated statement (live link here) replaced it. Neither statement mentioned a ditch or Democrats. The investigation later concluded it was caused by confusion over how to handle "naked ballots," those that are not sealed in a required envelope. Also, it is no longer claimed that all nine ballots were for Trump, since two were still sealed.
The claim appeared in a tweet (archived here) posted by Turning Point USA founder Charlie Kirk on September 24, 2020. It read:
WOW:

The FBI just released a statement that multiple military mail-in ballots were found thrown away in a ditch in Pennsylvania

ALL of them were for President Trump. This is true election interference and Democrats are okay with it.

RT!
This is what the post looked like on Twitter at the time of writing:
(Source: Twitter screenshot taken on Sat Sep 26 23:08:16 2020 UTC)
This is the UPDATED statement from the U.S. Attorney:
On Monday, September 21, 2020, at the request of Luzerne County District Attorney Stefanie Salavantis, the Office of the United States Attorney along with the Federal Bureau of Investigation, Scranton Resident Office, began an inquiry into reports of potential issues with a small number of mail-in ballots at the Luzerne County Board of Elections.

Since Monday, FBI personnel working together with the Pennsylvania State Police have conducted numerous interviews and recovered and reviewed certain physical evidence. Election officials in Luzerne County have been cooperative. At this point we can confirm that a small number of military ballots were discarded. Investigators have recovered nine ballots at this time. Some of those ballots can be attributed to specific voters and some cannot. Of the nine ballots that were discarded and then recovered, 7 were cast for presidential candidate Donald Trump. Two of the discarded ballots had been resealed inside their appropriate envelopes by Luzerne elections staff prior to recovery by the FBI and the contents of those 2 ballots are unknown.

Our inquiry remains ongoing and we expect later today to share our up to date findings with officials in Luzerne County. It is the vital duty of government to ensure that every properly cast vote is counted.
Again, this is not from the FBI and there is NO mention of a ditch.
A statement from the Luzerne County Manager released a statement on September 25, 2020, providing more context -- which indicated it was not part of a widespread conspiracy to steal votes from Trump.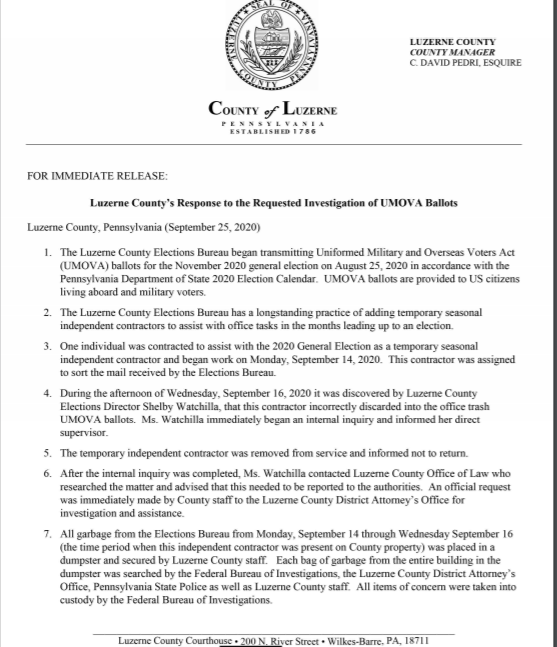 The Washington Post published an article on September 25 titled What we know about those discarded Trump ballots in Pennsylvania that the discarding of the nine ballots was the result of confusion over a recent court ruling -- requested by Trump lawyers -- that "naked ballots" that were not in a second sealed envelope should not be counted:
Because these ballots were returned in envelopes similar to absentee ballot requests, elections officials opened them. If the ballots weren't then enclosed in another envelope that shielded the actual vote being cast, they may have been considered "naked ballots," a term used to describe mail ballots returned without the voter's intent being protected.

If that's the case, which again isn't clear, that meant that elections officials who were opening the envelopes to see what they contained may have had to discard the votes, given a recent ruling by the state's Supreme Court.
The investigation into these nine ballots has caused election officials to revise the instructions to their employees so this is not repeated. It is clearly not the "true election interference" that Kirk claimed.