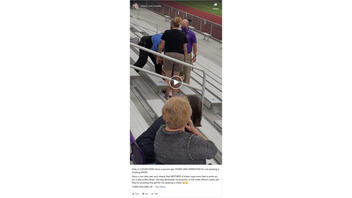 Was a woman arrested at a middle school football game for not wearing a mask? No, that's not true. A video went viral showing a woman not wearing a mask at a football game in Logan, Ohio, and a police officer tasing her, putting her in handcuffs and taking her away. However, she was arrested on school property for criminal trespassing, not for not wearing a mask, the Logan Police Department said.
The claim appeared as a post published on Facebook on September 24, 2020 (archived here) with following text:
Only in LOGAN OHIO does a person get TASED AND ARRESTED for not wearing a freaking MASKHere u can also see very...
This is what the post looked like on Facebook at the time of writing:
(Source: Facebook screenshot taken on Fri Sep 25 17:20:38 2020 UTC)
The Logan Police Department released a statement after the woman's arrest at the football game on Sept. 23, 2020, detailing the incident and the reason for the woman's arrest:
It is important to note, the female was not arrested for failing to wear a mask, she was asked to leave the premises for continually violating school policy. Once she refused to leave the premises, she was advised she was under arrest for criminal trespassing, she resisted the arrest, which led to the use of force."
PRESS RELEASE On September 23rd at approximately 5:30 P.M. School Resource Officer Chris Smith was working a special...

Posted by Logan Police Department on Thursday, September 24, 2020
The woman, identified as Alecia D. Kitts was free to leave the stadium if she did not wish to wear a mask. The school district had established the rule that spectators at the game were required to wear a mask to attend, which was widely publicized before and as spectators entered the game, The Marietta Times reported.
The woman was sitting in the stands and refused to put a mask on when approached by the officer and refused to leave the property. She is seen on video being tased by the officer and then put in handcuffs and taken out of the stadium. A mask can be seen in the back right pocket of her shorts and appears to have an American flag pattern.
"The female was later identified as Alecia D. Kitts. She was charged with Criminal Trespassing and released at the scene," the Logan Police said in their statement.
Theresa Schultheiss, the Logan-Hocking Schools athletic director, told The Marietta Times the venue hosted 300 fans at the game, with only two individuals, the two women in the video, who were "having issues with compliance."

This rule has been in effect since we were told we could play," said Schultheiss. "Everyone that came through ticketing tonight was reminded, we had regular announcements over the PA reminding you that mouths and noses needed to be covered and we had signs at the bathrooms."

Legal expert and Lead Anchor for Court TV Vinnie Politan explained the details about the video caught on camera to Lead Stories:
"She was arrested for criminal trespassing, not for not wearing a mask. You can set the conditions or rules for entry into your facility. For example no shoes, no shirt and if you're not following those requirements then we can ask you to leave. If you refuse to leave now it is trespassing," he told Lead Stories during a Sept. 25, 2020 phone interview.
In the video Politan posted about the case on Sept. 24, 2020 he states his thoughts on Kitts' situation:
She's not being arrested for not wearing a mask. That's an important fact here because you can't arrest someone for not wearing a mask.that would be really problematic.She's being arrested for trespass.

One of the rules for being permitted to be there at that school, at that facility is that you must wear a mask. And she was informed of that. So they are arresting her for trespass. For not leaving voluntarily when asked to leave when she refused to put on the mask which is being required by the school at their facility."
During the Sept. 25 phone conversation with Lead Stories, Politan compared the situation to going into a restaurant barefoot. "There is nothing illegal about being barefoot. But the restaurant can tell you you have to leave; you're not allowed to be here anymore. Then they would call the police if you refuse to leave. It is then not about being barefoot, it is about refusing to leave."
Politan continued, "The only twist to this whole thing is it is a public school. Are the rules that they are requiring different at a public school? This is different from a private business it is public by nature.
Politan said Kitts and a lawyer could "challenge the whole requirement of a mask. Challenge if it is even constitutional to require people to wear a mask in a public place. Not a private place. If they challenge that. Then how would that impact whatever other charges she was facing? They could say it is unconstitutional and illegal to require someone to wear a mask."
Ohio Governor Mike DeWine (R) said the school officials were following the guidelines established by the Ohio Health Department and the state's high school sports athletic association to hold a fall sports season during the pandemic.
"Before you just look at the video, look at what led up to that video, and I think that you'll get a full picture of what happened," DeWine said according to CBS Channel 2. "Very unfortunate, very unpleasant to look at. No one wants to see that happen. It's sad when we see something like that."