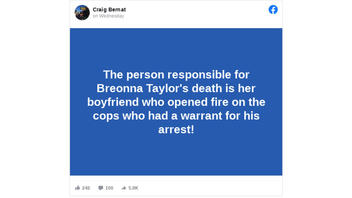 Did Louisville police have a warrant for Breonna Taylor's boyfriend, Kenneth "Kenny" Walker, the night she was fatally shot by police? No, that's not true: The police were not executing an arrest warrant on Walker that night. Rather, police were executing a no-knock warrant on Taylor's apartment that was granted because police said that address was used to receive packages for an ex-boyfriend, Jamarcus Glover, who had alleged connections to drug sales. Glover is mentioned throughout the search warrant. Walker is never mentioned in the search warrant; he only happened to be at Taylor's apartment on the night the night they executed the search warrant.
The claim appeared in a Facebook meme (archived here) published on September 23, 2020. The meme read:
The person responsible for Breonna Taylor's death is her boyfriend who opened fire on the cops who had a warrant for his arrest!
This is what the post looked like on Facebook at the time of writing:
(Source: Facebook screenshot taken on Fri Sep 25 13:24:01 2020 UTC)
When officers arrived to Taylor's apartment on March 13, 2020, officer Mattingly claims he announced himself as law enforcement before bursting into the apartment, according to the recording of his interview (7:20 on the recording timeline) with police investigators. But Walker states that never heard them identify themselves as such, according to the recording of Walker's interview (12:00 on the recording timeline) with police investigators. Walker pulled out his gun and fired a shot hitting Mattingly in the leg, at which point the officers returned fire, killing Taylor.
After that night, Walker faced criminal charges of attempted murder and assault, but they were dropped on May 22, 2020 , with Jefferson County's top prosecutor saying the case demands further investigation. These charges can theoretically be brought back to a grand jury depending on the outcomes of investigations by the FBI, Kentucky Attorney General's Office, and the U.S. Attorney's Office.
The claim that LMPD had an arrest warrant for Walker is not the only viral falsehood about the case: Social media users have also wrongly stated that Walker was a drug dealer. "Breonna Taylor's boyfriend was a drug dealer. The police had a legal warrant. When entering, the boyfriend opened fire on the police, and the police fired back. A bullet struck Breonna Taylor and killed her. FACTS MATTER!" one Facebook user wrote on September 23, 2020.
This is what the Facebook post looked like at the time of posting:

It's possible that these social media posts are referring to Glover, who was recently arrested on drug charges. But Walker, her boyfriend that was there at the time of her shooting and the one being referenced in the Facebook post, has no history of drug offenses.
No drugs were found at Taylor's apartment on the night of the search warrant, according to the report police filed after the search.