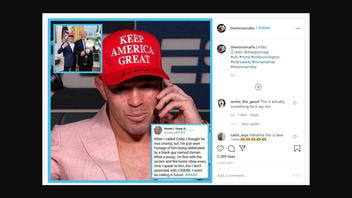 Did President Trump post a homophobic and racist tweet about his phone call with Colby Covington, an MMA fighter and fervent Trump supporter? No, that's not true: It is a fabricated tweet created by a satire site.
The claim appeared in an Instagram post (archived here) published by @mmamafia on Sept. 22, 2020 with the caption, "Lmfao (Credit: @thesportrag) #ufc #mma #colbycovington #martialarts #mmamemes #themmamafia" The fake Trump tweet pasted into the corner of the Instagram post read:
When I called Colby I thought he was champ, but I've just seen footage of him being obliterated by a black guy name Usman. What a p***y. I'm fine with the racism and the homo vibes every time I speak to him, but I don't associate with LOSERS. I won't be calling in future. #MAGA
This is what the Instagram looked like at the time of posting:
This image of the fake tweet in the bottom corner of the Instagram post is watermarked: "The Sport Rag". That's a satire site whose Instagram bio reads, "OFFICIAL account of The Sport Rag, UK-based purveyors of fine satirical sports news." Despite the watermark and the nod to "@thesportrag" in the caption of the Instagram post, it is not immediately clear that it is a made-up, satirical tweet.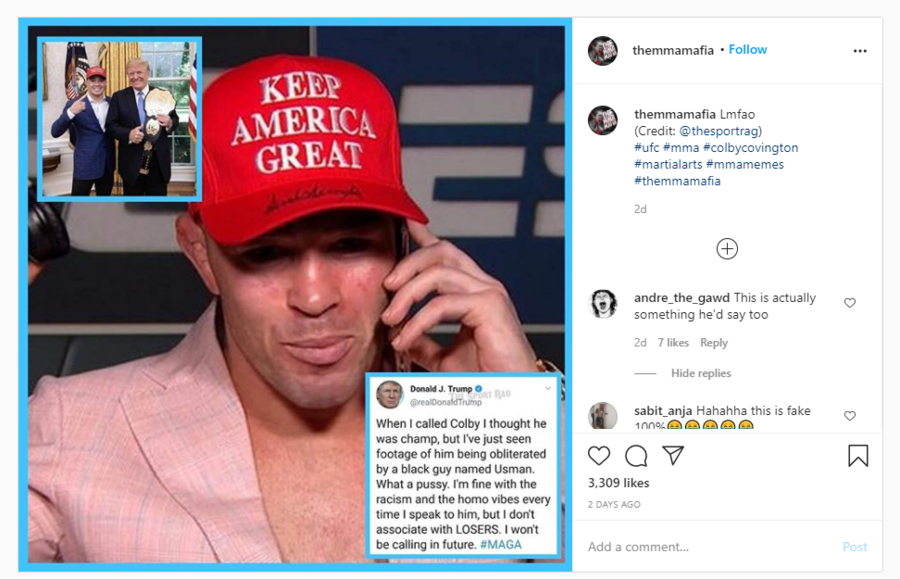 In case that's not evidence enough, there is no instance of that tweet in the database, Factbase, which contains all of Trump's tweets, deleted tweets, public statements, and more. Factbase is a private, for-profit company that maintains comprehensive databases of all public statements by Trump and other public figures.
So what prompted this fake tweet to be created and what is it referring to? On Sept. 19, 2020 Covington took on a Black MMA fighter named Tyron Woodley and won. In Covington's post-fight press conference, Trump called him to congratulate him on his victory. "I'm gonna bring you the new belt to the Oval Office soon after you win November third by a landslide," Covington said on the call. Trump told Covington how he rushed out of his rally in North Carolina to be able to watch the match.
President Trump called @ColbyCovMMA during the #UFCVegas11 post show 📱 pic.twitter.com/FJsUMQV8Xk

-- ESPN MMA (@espnmma) September 20, 2020
Here is a photo of Covington's visit to the White House back in 2019:
Fight hard tonight Colby. You are a real Champ! #MAGA https://t.co/dj3JlWQu7i

-- Donald J. Trump (@realDonaldTrump) August 3, 2019