STORY UPDATED: check for updates below.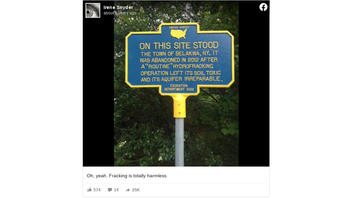 Was the town of Belakwa, New York, abandoned in 2012 after a "routine hydrofracking operation left its soil toxic and its aquifer irreparable?" No, that's not true: Belakwa, New York, is not a real place. A sign, describing the fictional town as abandoned due to fracking, looks very similar to New York state's historical markers, but it is in fact a piece of art.
The claim appeared in a post (archived here) published on Facebook on October 17, 2015, and features a photo of the purported historical marker. The post states:
[Oh, yeah. Fracking is totally harmless.]
This is what the post looked like on Facebook at the time of writing:
(Source: Facebook screenshot taken on Wed Oct 28 19:47:24 2020 UTC)
This is another version of the post shared on Pinterest:
The Facebook post, although five years old, has been recirculating across social media in recent days, at the same time fracking has become a focal point in the presidential election.
The sculpture, known as "Belakwa, NY", is one of many pieces of art created by Norm Magnusson, as part of his "On This Site Stood" series. He's been making the cast aluminum sculptures for more than a decade, and many have been installed in galleries and museums across the U.S.
Magnusson told Lead Stories in an email on October 28, 2020, the sculptures "subvert the format of the NY State historical marker in order to add the weight of historical importance to some of today's most pressing political and social issues." He added:
I try to make these markers dispassionate and factual, hoping that they might help viewers look at issues from a different point of view and not turn people off with obviously partisan text."
Magnusson created the "Belakwa, NY" marker about eight years ago. The town's fictional name, he explained, is a play on "belle aqua", which roughly translates to "beautiful water."
Other examples of his pieces include a marker that states, "On this site stood Karen Dewitt, who could not afford the prescription drugs that would have saved her life." Another one says, "On this site stood Robert Oknos, who thought that global warming would not affect him in his lifetime."
To double-check that the town is fictional, Lead Stories conducted a Google search and a Google maps search and found no indication that Belakwa ever existed in New York.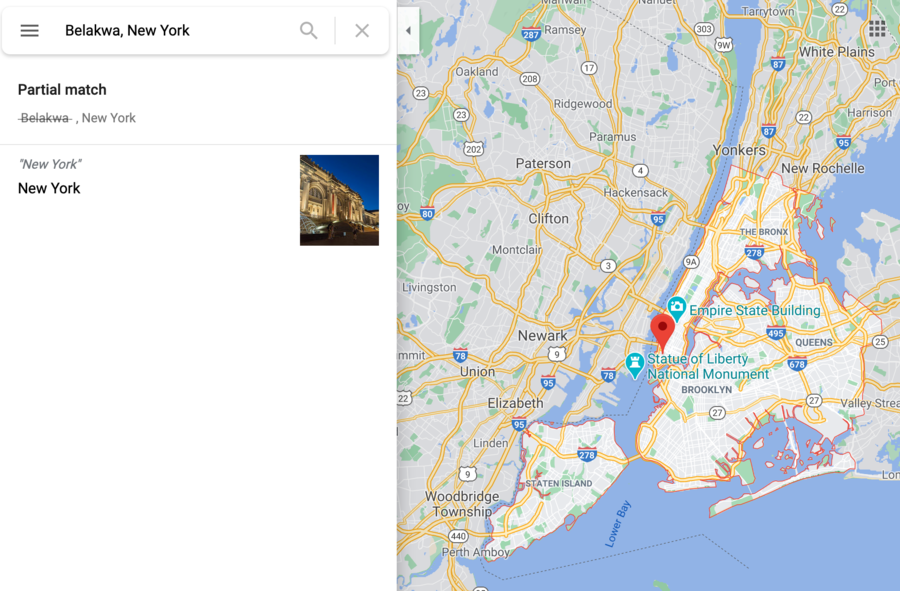 The sign is, however, similar to those blue and gold historical markers that have been installed across New York. But rather than depicting any type of social or political message, the real markers tend to document such things as ancient towns, notable churches, and battle sites. Here is a link to the spreadsheet of the 2,428 New York State historic markers.
Snopes previously published an article debunking this claim.
In 2007, the New York Times published an art review featuring Magnusson's array of sign art.
2020-10-29T00:39:10Z

2020-10-29T00:39:10Z

Updated to eliminate an un-necessary "of"