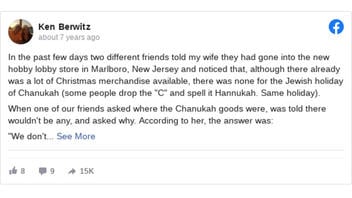 Does Hobby Lobby not sell Jewish holiday items? No, that's not true: Hobby Lobby sells Jewish holiday items -- just as it did seven years ago when a now-recirculating post on Facebook appeared, accusing the company of religious bias.
The claim originated from a post (archived here) published by Facebook on September 27, 2013. It opened:
In the past few days two different friends told my wife they had gone into the new hobby lobby store in Marlboro, New Jersey and noticed that, although there already was a lot of Christmas merchandise available, there was none for the Jewish holiday of Chanukah (some people drop the "C" and spell it Hannukah. Same holiday).

When one of our friends asked where the Chanukah goods were, was told there wouldn't be any, and asked why. According to her, the answer was:

"We don't cater to you people"

Understandably irate, she called the home office, and was told, indifferently, that hobby lobby doesn't have Chanukah on its list of holidays.
This is what the post looked like on Facebook at the time of writing:
(Source: Facebook screenshot taken on Wed Oct 28 15:24:03 2020 UTC)
Although the original version of the Facebook post occurred more than seven years ago, it received more than 100,000 views on October 27, 2020.
A look at Hobby Lobby's web page on October 28, 2020, showed 31 Jewish items for sale on line under the Hanukkah heading: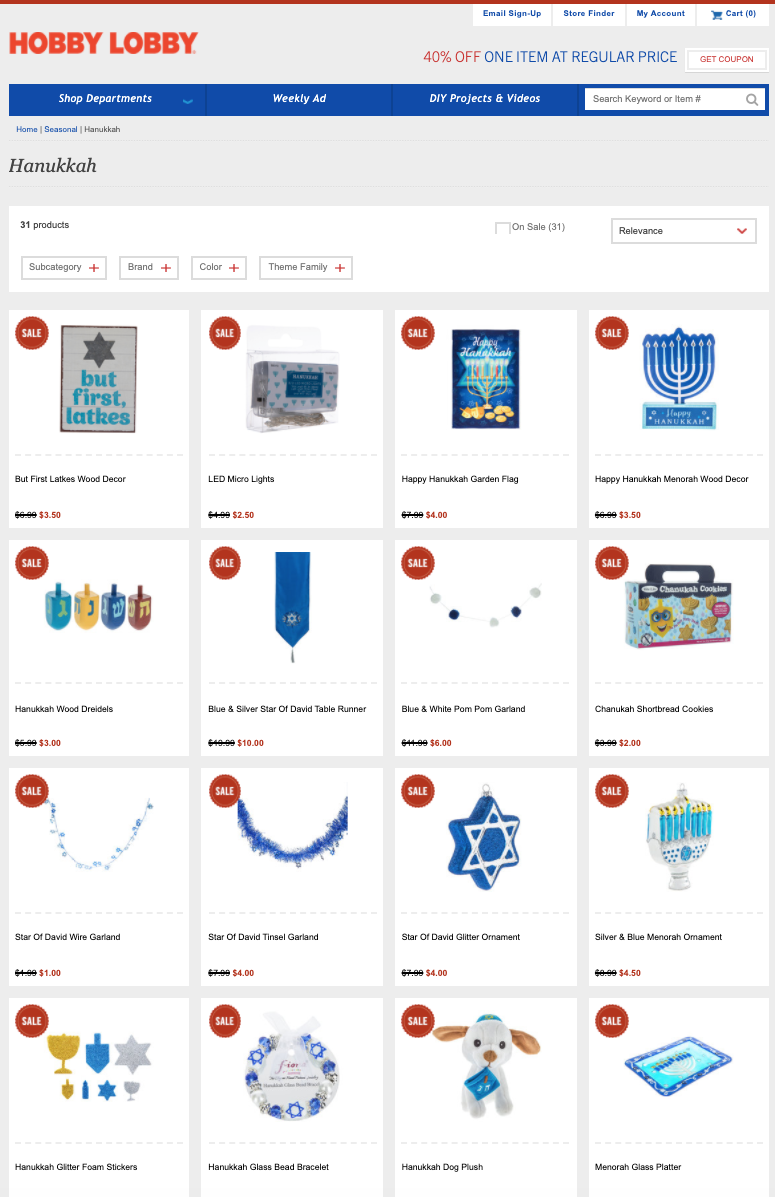 (Source: Screenshot from company website taken Wed Oct 28)
After the original posting with the accusation went viral, Hobby Lobby President Steve Green, a noted funder of evangelical Christian causes and opponent of abortion, issued a statement on October 3, 2013, to clarify the issue:
We sincerely apologize for any employee comments that may have offended anyone, especially our Jewish customers and friends. Comments like these do not reflect the feelings of our family or Hobby Lobby.

Our family has a deep respect for the Jewish faith and those who hold its traditions dear. We're proud contributors to Yad Vashem, as well as to other museums and synagogues in Israel and the United States.

We are investigating this matter and absolutely do not tolerate discrimination at our company or our stores. We do not have any policies that discriminate; in fact, we have policies that specifically prohibit discrimination.

We have previously carried merchandise in our stores related to Jewish holidays. We select the items we sell in our stores based on customer demand. We are working with our buyers to re-evaluate our holiday items and what we will carry in the future.
The Anti-Defamation League, which bills itself as a leading anti-hate organization and is often known as the ADL, issued a statement at the time in support of Green's comments:
We are satisfied with the apology of Hobby Lobby and appreciate the company's efforts to investigate the incident and to ensure that it does not happen again. Since the allegations about the employee's comments first came to light, Hobby Lobby's representatives have been in direct contact with ADL and have assured us in unequivocal terms that their company has a zero-tolerance policy for discrimination and that decisions on the merchandise they carry are based on consumer demand, not out of a lack of respect for other faiths.

For many years, concerns have been raised by some in the Jewish community that Hobby Lobby, while stocking Christian merchandise, does not carry Hanukkah items. ADL firmly believes that the religious views of a business owner cannot be a basis to infringe upon the legal rights of others, but a store choosing not to carry Hanukkah items does not violate anyone's rights. Moreover, we have no reason to believe that Hobby Lobby has refused to stock Hanukkah items because of hostility to Jews or anti-Semitism. In fact, some Hobby Lobby stores have stocked a few Hanukkah items in the past, and the chain is apparently considering stocking more Jewish merchandise in the future as they expand into more culturally diverse markets.

At the end of the day, merchandisers have the right to decide which items to include in their inventory. The decision should be theirs and theirs alone.
Hobby Lobby did not respond to written and telephone voicemail requests for comment by Lead Stories on October 28, 2020. This report will be updated, as appropriate, when they respond.