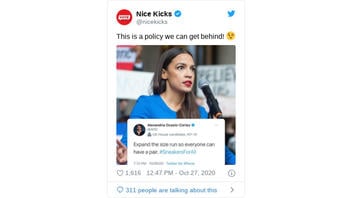 Did Democratic U.S. Rep. Alexandria Ocasio-Cortez endorse a shoe store on Twitter, urging it to "expand the size run so everyone can have a pair"? No, Austin, Texas-based Nice Kicks posted a fake tweet using images from the congresswoman's Twitter account and over-laid words. The composite appeared on Nice Kicks' Instagram and Twitter accounts. As a member of Congress, Ocasio-Cortez -- whose staff said the tweet was "false" -- cannot make private endorsements of any kind.
The post appeared on social media, including a tweet (archived here) published to Twitter on October 27 2020, titled "Nice Kicks on Twitter" which opened:
This is a policy we can get behind! 😉
This is what the post looked like on Twitter at the time of writing:
This is a policy we can get behind! 😉 pic.twitter.com/YYvPo3gDx6

-- Nice Kicks (@nicekicks) October 27, 2020
"The tweet is false," according to a spokesperson for Ocasio-Cortez, Ivet Contreras Indeed, there is no tweet endorsing Nice Kicks on Ocasio-Cortez's official Twitter page. The Twitter page of Ocasio-Cortez only shows one post from her on October 26, 2020:
.@RepAOC is proud to stand with @RepEspaillat and @RepHankJohnson in calling for the immediate closure of Irwin County Detention Center, following reports of "overly aggressive, invasive, and unnecessary surgeries" on detained women. https://t.co/L9KlV1Lc3u

-- Rep. Alexandria Ocasio-Cortez (@RepAOC) October 26, 2020
Her staff also sent out one news release on the same day, with AOC and others calling for an end to "appalling conditions and practices" at a facility in Georgia run by the U.S. Immigration and Customs Enforcement (ICE) agency.
The fake tweet is also on Nice Kick's Instagram page here: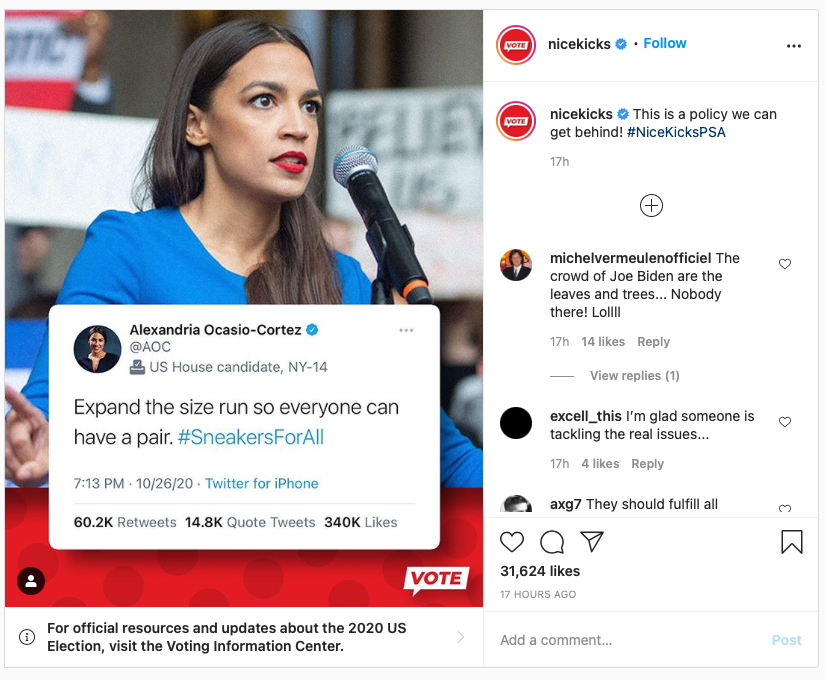 Lead Stories reached out to Nice Kicks for comment. Lead Stories will update this report, as appropriate, when they respond.
On the House Ethics Committee "Laws, Rules, and Standards of Conduct" page, it states this:
At times a Member or staff person wishes to engage in outside employment that involves the selling of goods or services. On the basis of the rules and standards of conduct set out above, a Member should not undertake any outside employment that would involve the Member personally in the selling or endorsement of any goods or services. On the same basis, at a minimum, any staff person who engages in sales may not solicit purchases from either (1) any non-congressional person with whom the employee came into contact through the congressional office or who has interests before the congressional office, or (2) any subordinate staff in his or her congressional office. In addition, in soliciting sales, House employees may not, directly or indirectly, identify themselves as congressional staff, refer to their congressional duties, or otherwise make use of their status as a congressional employee."