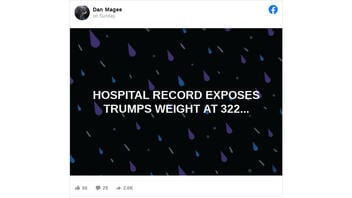 Did hospital records expose President Donald Trump's weight at 332 pounds? No, that's not true: No hospital records concerning President Trump are publicly available. The only official information about Trump's weight has been provided by the White House physician, including the revelation that he weighed 244 pounds as of June 2, 2020. Dr. Sean Conley also said on October 3, 2020, that Trump was "slightly overweight," which put him into a higher risk category for COVID-19.
The claim appeared as a meme in a post (archived here) shared on Facebook on October 4, 2020. It read:
HOSPITAL RECORD EXPOSES TRUMPS WEIGHT AT 322...
This is what the post looked like on Facebook at the time of writing:
(Source: Facebook screenshot taken on Wed Oct 7 15:27:20 2020 UTC)
This is a screenshot of the meme: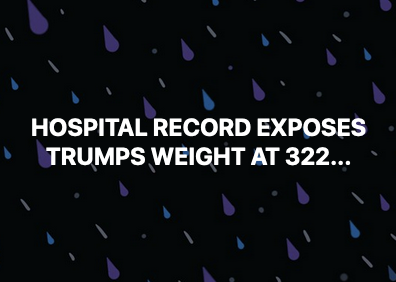 Suspicions about President Trump's weight has been a subject of comment by his critics, especially since then-White House physician, Dr. Ronny Jackson, told reporters at a January 16, 2018, briefing that it was 239 pounds. Read the official White House report here.
Current White House physician, Dr. Sean Conley, reported on June 3, 2020, that Trump weighed 244 pounds, which was one pound more than his 2019 weight of 243. Bloomberg.com reported:
Conley said Trump weighs 244 pounds, one pound more than his last physical, and is 6 feet, three inches tall -- a combination that places him just over the threshold for obesity, according to the National Heart, Lung and Blood Institute.
The latest official statement on Trump's weight came on October 3, 2020, as Dr. Conley stood on the steps of Walter Reed National Military Medical Center, where the president was then being treated for COVID-19. Conley called him "slightly overweight."
This article is not a fact check of the president's actual weight, but we do conclude that, contrary to the seven-word meme, no hospital records have "exposed" Trump's weight at 322 pounds.