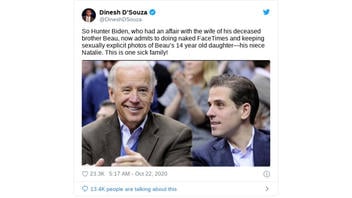 Did Hunter Biden admit to doing naked video calls on FaceTime and keeping sexually explicit photos of a 14-year-old? No, that's not true. There is no record Hunter Biden has confirmed having done either of those things. The person making the claims, a pardoned felon who pleaded guilty to falsifying two campaign contributions, provided no documentary, photographic or testimonial evidence to support the claim.
The claim appeared as a tweet (archived here) published by conservative provocateur, author and film-maker Dinesh D'Souza on Twitter on October 22, 2020. It opened:
So Hunter Biden, who had an affair with the wife of his deceased brother Beau, now admits to doing naked FaceTimes and keeping sexually explicit photos of Beau's 14 year old daughter--his niece Natalie. This is one sick family!
This is what the post looked like on Twitter at the time of writing:
(Source: Twitter screenshot taken on Thu Oct 22 19:32:10 2020 UTC)
D'Souza offered no evidence or sourcing to substantiate his claim of Hunter Biden's purported admissions.
Hunter, Joe Biden's only surviving son, has been the target of attacks as the 2020 election between his father and President Donald Trump nears.
Hunter Biden has not commented on or admitted to any of the claims leveled at him in D'Souza's tweet.
The source of the claim may be a purported text message exchange between Hunter Biden and his father that Trump lawyer Rudy Giuliani presented in a Newsmax interview.

The message, which has not been proven authentic, was allegedly found on a laptop hard drive that Hunter Biden abandoned at a Delaware computer repair shop. This is a tweet of the Giuliani interview:
DEVELOPING: @RudyGiuliani displays a "very, very sensitive" alleged text message from Hunter Biden, which he claims to have handed over to the Delaware state police. @gregkellyusa https://t.co/VlT7z8drtO pic.twitter.com/nzbzAb9QbF

-- Newsmax (@newsmax) October 20, 2020
Even if the message is real, it does not constitute an admission of anything by Hunter Biden.
D'Souza was accused in 2014 of making two $10,000 campaign donations in other people's names in order to get around the $5,000 per-person limit on individual donations to U.S. Senate campaigns. D'Souza pleaded guilty and was convicted, but was then pardoned in 2018 by President Donald Trump.