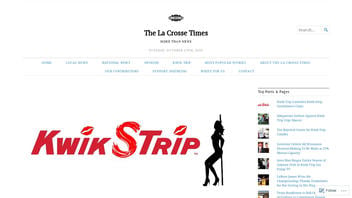 Is the convenience store chain Kwik Trip, Inc. expanding its business model to include Kwik Strip, a "gentlemen's club" experience complete with lap dances and other exotic entertainment? No, this is not true. It is satire published by a site that acknowledges as much on its About page. The La Crosse, Wisconsin-based Kwik Trip company denied to Lead Stories that there were plans for "Kwik Strip," with a company representative saying, "there's just no truth to it."
The claim originated in an article (archived here) published by The La Crosse Times on October 12, 2020, under the title "Kwik Trip Launches Kwik Strip Gentlemen's Clubs." The story opened:
Kwik Trip, Inc. has officially launched Kwik Strip, a new chain of convenience gentlemen's clubs.

Opening statewide next week, the clubs seek to provide fast and convenient exotic entertainment in a familiar setting. The move marks a strategic business turn that aims to expand Kwik Trip's existing portfolio and increase revenue across the board.

'We think there is an untapped market for folks who want to be able to gas up their cars, pick up a few essentials, grab that greeting card they forgot, and then get a quick lap dance from one of our coworkers, perhaps while enjoying a roller dog or nachos,' said Charles Winscomb, head of Kwik Strip sales and marketing."
This is what the post looked like on social media:
The entire story is a fabrication, including the name of the sales and marketing executive. A company representative, who asked not to be named, said:
That is very untrue. It's false. We are still the family company with the same morals and values we have always had. There's just no truth to it, and we are considering our (legal) options."
Kwik Trip | Kwik Star is based in La Crosse, Wisconsin, and is a popular U.S. convenience chain with some 700 stores and 28,000 employees. There are no plans to expand into gentlemen's clubs as a variant to attract more business, as stated in the fictional story.
The La Crosse Times states this on its About page:
The La Crosse Times was an idea borne from a member of the area's original sketch comedy group, Live! From La Crosse. News-minded comedy writers from that performance group banded together to create locally-sourced satire, and in February of 2020, officially launched with our very first story, "Climate Scientists Predict La Crosse to Become One Giant Kwik Trip By 2050".

In the short time we have been around, there's been a global pandemic, "Murder Hornets", social and political unrest everywhere and the US mail basically stopped working. Correlation does not necessarily equal causation, but damn. Sorry."
In fact, after inquiries began pouring in about the truth of the story's claims, The La Cross Times updated it's article with a disclaimer:
***NOTE: This article - along with all of our articles - is parody. Not factual. Normally we feel we don't need to spell that out, but for some reason people REALLY want to believe this one. - La Crosse Times Staff***
Even so, it may have fooled some people. The story got plenty of play -- and the name "Kwik Strip" got many searches -- on Google, as shown by Google Trends: