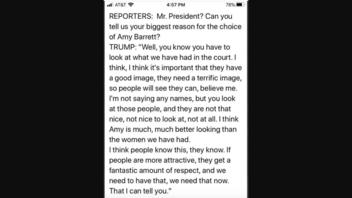 Did President Donald Trump tell reporters the main reason he nominated Amy Coney Barrett as Supreme Court Justice was because she is attractive? No, that is not true: It is a made up quote. There is no instance of that statement in Factbase, a database that contains all of Trump's interviews, and when Trump announced her nomination, he gave no indication that her appearance played a role in his decision.
The claim appeared as a meme in a post (archived here) on Facebook on October 13, 2020, under the title "Hey, Mr. Pussygrabber: This. Isn't. A. Damn. Beauty. Pageant!" text:
REPORTERS: "Mr. President? Can you tell us your biggest reason for the choice of Amy Barrett?"

TRUMP: "Well, you know you have to look at what we have said in the court. I think, I think it's important that they have a good image, they need a terrific image, so people will see they can believe me. I'm not saying any names, but you look at those people, and they are not that nice, not nice to look at, not at all. I think Amy is much, much better looking than the women we have had. I think people know this, they know. If people are more attractive, they get a fantastic amount of respect, and we need to have that now. That I can tell you."
This is what the post originally looked like on Facebook: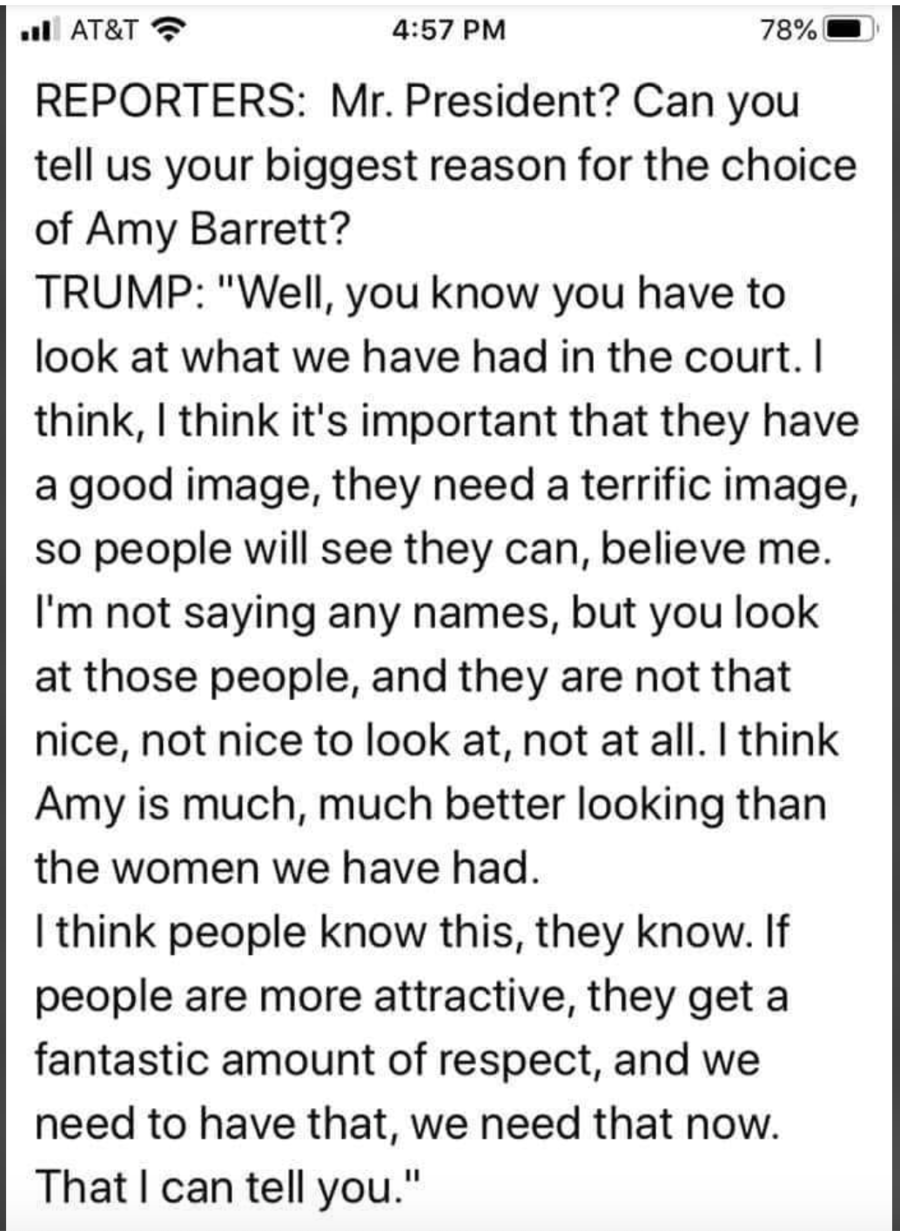 (Source: Facebook screenshot taken on Tue Oct 13 21:07:00 2020 UTC)
Lead Stories conducted a search of all of the president's interviews, speeches, tweets and more through the database Factbase, a private, for-profit company, and found no evidence of any part of this quote attributed to Trump. A Google search similarly turned up no instance of a remark like that attributed to Trump.
When Trump announced Barrett's nomination at the Rose Garden on September 26, 2020, he did not mention her being "attractive" or "better looking." He focused his speech on her education and legal resume, and did not mention her appearance at all.
On October 13, 2020, both Snopes and PolitiFact debunked the Facebook post.