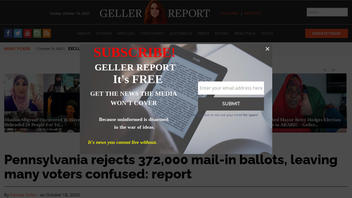 Did Pennsylvania reject 372,000 mail-in ballots? No, that's not true: Pennsylvania rejected 372,000 applications for mail-in ballots -- not actual ballots -- and the vast majority of them for being duplicate applications.
The claim appeared in an article (archived here) published by gellerreport.com on October 17, 2020. The article titled "Pennsylvania rejects 372,000 mail-in ballots, leaving many voters confused: report" opened:
In the immensely critical battleground state of Pennsylvania, approximately 372,000 mail-in ballots were rejected. The situation perplexed many voters, but officials say there is an explanation for the confusion.

ProPublica and the Philadelphia Inquirer co-published a report on Friday discovering that 372,000 mail-in ballots were rejected. Overall, one out of every five requests for mail-in ballots were rejected, according to the report.
This is what the post looked like at the time of writing:
This was a matter of housekeeping, not voter fraud. Pennsylvania election officials rejected 372,000 ballot applications, not actual ballots.
According to The Philadelphia Enquirer newspaper and the ProPublica investigative website, which co-published a report October 16, 2020, nearly all of the rejected ballots were duplicates:
More than 90% of those applications, or about 336,000, were denied as duplicates, primarily because people who had requested mail ballots for the state's June 2 primary did not realize they had checked a box to be sent ballots for the general election, too.
The report notes that a substantial number of voters have been affected.
Overall, one out of every five requests for a mail-in ballot are being rejected in Pennsylvania. An estimated 208,000 Pennsylvania voters sent in the spurned requests, some submitting them multiple times. Although the state's email rejecting the requests describes them as duplicates, it doesn't explain why, prompting some people to reapply. ProPublica and The Philadelphia Inquirer identified hundreds of voters who submitted three or more duplicate applications; one voter appears to have submitted 11 duplicates.
The Geller Report is identical to a report published first by The Blaze, which has since been corrected to say it was the applications that were rejected, not the actual ballots.
The website 100percentfedup.com also had the wrong information in its headline, which said:
Critical Swing State of PA: 372,000 Mail-In Ballots Rejected After Discovering 90% Were DUPLICATES
But the story under the headline had the correct information:
About 372,000 requests were rejected, as reported by ProPublica on Friday, largely because many of them, about 90%, were duplicates. Overall, one out of every five requests for mail-in ballots are being rejected, according to the publication.
The report by the Inquirer and ProPublica highlight what helped cause the situation:
Nongovernmental groups have inundated Pennsylvania voters with mail ballot applications, making it easy to request ballots -- and contributing to the flood of duplicates. Voters often believe these unsolicited and sometimes inaccurate applications come directly from elections offices. Some voters are filling them out even if they've previously submitted a ballot application.

These groups have created "confusion for voters and the likelihood that voters will not realize their application has been processed and they don't need to submit another one," said the Pennsylvania Department of State, which oversees elections. It added that "some voters may have forgotten that they opted to be put on the annual mail ballot list when they applied for a ballot for the June primary."
The Covid-19 pandemic was also a factor, the report states:
The administrative nightmare highlights the difficulty of ramping up vote-by-mail on the fly without enough voter education. Last year, Pennsylvania passed a law that removed the state's tight restrictions on mail ballots and enabled any registered voter to receive a ballot without giving a reason such as travel or ill health. In 2018, only 4% of votes in Pennsylvania were cast by mail. In the June primary, with the pandemic discouraging many people from voting in person, that percentage rose to just over half.

"States that have large numbers of successful mail voters, pre-pandemic, have educated their voters about this process over decades, and Pennsylvania is trying to do this in a matter of months," said David Becker, founder and executive director of Center for Election Innovation & Research in Washington.
The report said the political climate also has contributed:
Months of baseless attacks by President Donald Trump that mail voting is susceptible to widespread fraud have soured many Republican voters on using the method and created a large partisan divide. Of Pennsylvania's approved ballot applications as of Wednesday, more than 948,000 have come from Democrats, 343,000 from Republicans, and 241,000 from independent and third-party voters.
NewsGuard, a company that uses trained journalist to rank the reliability of websites, describes gellerreport.com as:
A blog run by activist Pamela Geller that portrays Islam and its adherents in a negative light. The site has published false claims about former U.S. President Barack Obama and the COVID-19 pandemic.
According to NewsGuard the site does not maintain basic standards of accuracy and accountability.