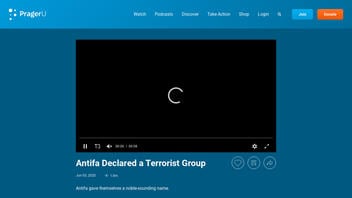 Did the United States label antifa a terrorist group? No, that's not true. President Donald Trump has vowed to designate antifa as a "Terrorist Organization," including via Twitter, but he has not officially done so and the Justice Department has not. FBI Director Christopher Wray said during a hearing at the House of Representatives that the FBI did not consider antifa "a group or an organization. It's a movement or an ideology." He then spoke during a hearing in front of the Senate where he said, "Antifa is a real thing. It is not a fiction," but the group has not been labeled a terrorist group.
The claim appeared as a video (archived here) published by PragerU.com on June 3, 2020, under the title "Antifa declared a terrorist group." It opened:
The United States has labeled antifa a terrorist group.
This is what social media users saw at the time of writing:
The 58-second video shows scenes from protests around the country following the death of George Floyd, with captions that read:
The United States has labeled antifa a terrorist group. Antifa has a history of violently attacking conservatives and liberals. Antifa recently joined Black Lives Matter protesters rioting over the death of George Floyd. But what is antifa? Antifa's goal is to create chaos, followed by anarchy. In truth, the destruction of America is their aim. Antifa claims to fight fascism, but it's roots and tactics are deeply fascist. The group was once affiliated with the communist party of Germany. Antifa members tend to be young and unemployed anarchists with a fondness for Marxism and communism. They've been showing up to cause violence, destruction and Mayham. They repeatedly commit violent acts against innocent people, while claiming to fight against "fascism." So who are the real fascists?"
President Trump tweeted about antifa on May 31, 2020.
The United States of America will be designating ANTIFA as a Terrorist Organization.

-- Donald J. Trump (@realDonaldTrump) May 31, 2020

Also on May 31, 2020, U.S. Attorney General William Barr released a statement on "Riots and Domestic Terrorism," only mentioning antifa in the last sentence.

The violence instigated and carried out by Antifa and other similar groups in connection with the rioting is domestic terrorism and will be treated accordingly."

On September 17, 2020, Wray testified in front of the House Homeland Security Committee, describing how the FBI views antifa. According to the transcript on Rev.com, Wray said:

We look at Antifa as more of an ideology or a movement than an organization. To be clear, we do have quite a number of properly predicated domestic terrorism investigations into violent anarchist extremists, any number of whom self identify with the Antifa movement. And that's part of this broader group of domestic violent extremists that I'm talking about, but it's just one part of it. We also have the racially motivated violence extremists, the militia types, and others."

During the September 17, 2020, testimony, Wray also said:

Well, we don't really think of threats in terms of Left and Right at the FBI. We're focused on the violence, not the ideology. Our domestic violent extremists include everything from racially motivated violent extremists, which we've talked about here in this Committee before, I think when I testified last year, for example, all the way to antigovernment, anti-authority violent extremists, and that includes people ranging from anarchist violent extremists, people who subscribe to Antifa or other ideologies, as well as militia types, and those kinds of."
Wray also spoke in front of the Senate Homeland Security Committee on September 24, 2020, about antifa again. "Antifa is a real thing. It is not a fiction," he said in a C-SPAN video from the hearing.
On September 25, 2020, the Trump campaign sent an email asking supporters to add their names to a list "to stand with President Trump against the KKK and ANTIFA."
The email obtained by Lead Stories read:
President Trump has made it clear he will not tolerate the disgusting acts of violence from the KKK and ANTIFA against innocent citizens, which is why he just announced that the United States will be formally designating each of these extreme, UN-AMERICAN groups as Terrorist Organizations."
On October 1, 2020, Trump again called antifa a "domestic terrorist organization," but there was still not an official designation.
I want to defend & preserve our nation's historic values. Our opponents stand with rioters - I stand with the heroes of Law Enforcement. Biden says Antifa is just an idea. Ideas don't assault cops & burn down buildings. Antifa is a domestic terrorist org. pic.twitter.com/ZSnRJ8DaQo

-- Donald J. Trump (@realDonaldTrump) October 1, 2020
No formal designations listing antifa as a terrorist organization have been made as of October 1, 2020.
NewsGuard, a company that uses trained journalist to rank the reliability of websites, describes prageru.com as:
A website that says it publishes videos "about the values that make America great" that has made unsubstantiated claims to advance conservative views, including about COVID-19.
According to NewsGuard the site does not maintain basic standards of accuracy and accountability. Read their full assessment here.