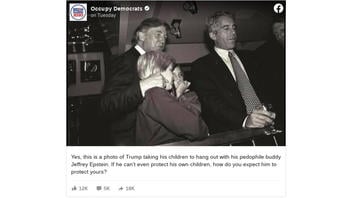 Did Donald Trump take his children to "hang out with his pedophile buddy Jeffrey Epstein" and fail to protect the Trump children? No, this photo was taken at the grand opening of the Harley Davidson Cafe in New York City on October 19, 1993. There were many photographers and celebrities there, and Donald Trump was a special guest. It was more than a decade later that the Palm Beach Police Department first began the investigation into Jeffrey Epstein's criminal sexual behavior with minors, in March of 2005.
The claim appeared in a post (archived here) where it was published by Occupy Democrats on October 20, 2020, with the caption:
Yes, this is a photo of Trump taking his children to hang out with his pedophile buddy Jeffrey Epstein. If he can't even protect his own children, how do you expect him to protect yours?
This is what the post looked like on Facebook at the time of writing:
(Source: Facebook screenshot taken on Wed Oct 21 16:51:44 2020 UTC)
Tuesday October 19, 1993, was the grand opening of the Harley Davidson Cafe in Manhattan. Two days earlier, a full page story titled, "Forever Harley" about the new restaurant appeared in the Sunday New York Times. The article touched on the yuppie invasion in the motorcycle scene, how biker-inspired designs were showing up on runway fashion shows and how this new themed business idea from restaurateur Marc Packer was similar to the other nearby destinations like the Hard Rock Cafe and Planet Hollywood. The article finished by promoting the upcoming opening night this way:
And the celebrities, too, are expected to be there, at least on opening night.

"Donald Trump called me himself," Mr. Packer said. "He's coming."
This black and white photo by Dafydd Jones shows Donald Trump with his hand on his son Eric's shoulder and Ivanka close by his side, with Jeffrey Epstein also in the same frame. Jeffrey Epstein is not facing or acknowledging the Trump family. The photographer has the photo labeled, "Eric Trump, Ivanka Trump, Donald Trump, Jeffrey Epstein, Harley Davidson Cafe opening. Manhattan. 1993." There are several other photos in Jones' archive that seem to be taken at the same time and same location inside the three-story, 14,000-square-foot Harley Davidson Cafe(here)(here) and (here).
Donald Trump and Jeffrey Epstein had already been acquainted for about five or six years in 1993, by deduction from Trump's own estimate from when he was interviewed for the 2002 New York Magazine article titled, "Jeffrey Epstein: International Moneyman of Mystery"
Epstein likes to tell people that he's a loner, a man who's never touched alcohol or drugs, and one whose nightlife is far from energetic. And yet if you talk to Donald Trump, a different Epstein emerges. "I've known Jeff for fifteen years. Terrific guy," Trump booms from a speakerphone. "He's a lot of fun to be with. It is even said that he likes beautiful women as much as I do, and many of them are on the younger side. No doubt about it -- Jeffrey enjoys his social life."
The Trump children are not pictured "hanging out with a pedophile" nor is their father pictured "failing to protect them," quite the opposite, Donald Trump is holding both of his children close. There is zero evidence that Epstein ever harmed any of Donald Trump's children. The charges of unlawful sexual activity with a minor and lewd and lascivious molestation would be brought against Epstein in a May 1, 2006, Palm Beach Police Department Probable Cause Affidavit (here).
Other opening-night photos of celebrities posing with each other and the motorcycles appear in the Getty Image Archive (here). Some of the notable people seen are Peter Fonda, Chuck Zito, Joe Frazier, Larry Hagman, Robin Leach and Cecilia Nord, Judy Tenuta, Nancy Sinatra, and OJ Simpson and Nicole Brown.
This grand opening party was the occasion when Donald Trump posed on a motorcycle with Ivanka standing by. That photo was the foundation decades later for a separate photoshop manipulation to add Jeffrey Epstein into the scene.
The 2005 image of Epstein (here) in a monogramed track jacket used in the photoshop was manipulated into the 1993 photo of Trump with his daughter, to create the illusion that Epstein was there with Donald Trump and Ivanka. In reality, Epstein did attend that opening night party back in 1993, but was not in that specific photo and that night he wore a suit and tie.
Fact checks about the photoshopped image were written up in 2019 Snopes article, "Does This Photo Show Jeffrey Epstein with Donald and Ivanka Trump?" and by APNews, "Photo of Trump with daughter manipulated to include Jeffrey Epstein"