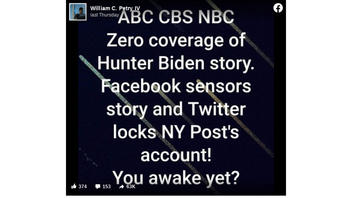 Did ABC, CBS and NBC ignore New York Post stories that Democrat Joe Biden helped his son get rich from a Ukrainian company, with "proof" on a laptop the younger Biden abandoned at a repair shop? No, this is not true. All three networks have covered the story -- allegations that surfaced first in the conservative tabloid on October 14, 2020, but have been challenged and questioned by officials, according to many news outlets.
The claim appears as a post (archived here) published to Facebook on October 15, 2020 as a meme, which read:
ABC CBS NBC Zero coverage of Hunter Biden story. Facebook sensors [sic] story and Twitter locks NY Post's account. You awake yet?
This is what the post looked like on Facebook at the time of writing:
(Source: Facebook screenshot taken on Wed Oct 21 21:04:37 2020 UTC)
This is false, and some other posts making the claim that none of the big three networks covered the story have since been deleted. But others remain up, including this one from October 18, 2020.
ABC, for its part, ran an Associated Press story about the NY Post's allegations on October 17, 2020. A day earlier, CBS ran this story. And on October 15, 2020, NBC ran this story.
The NY Post story has been questioned since the day it ran, reportedly after Fox News passed on it because of questions about its credibility. Also, on October 19, 2020, Politico reported that dozens of intelligence officials doubted the accuracy of the account, saying it was likely Russian disinformation. The New York Times ran a report about how the lead writer of the Post story refused to put his byline on the story because of questions about the accusation's authenticity.
The gist of the allegations are that Hunter Biden was enriched in Ukraine by his father's influence. The NY Post reported Hunter Biden left his laptop at a repair shop, and the owner found incriminating emails, including evidence of the son's drug problems and alleged sex acts on it before notifying the authorities and a lawyer for Trump adviser Rudy Guiliani. According to the AP story:
A New York tabloid's puzzling account about how it acquired emails purportedly from Joe Biden's son has raised some red flags. One of the biggest involves the source of the emails: Rudy Giuliani.

Giuliani has traveled abroad looking for dirt on the Bidens, developing relationships with shadowy figures, including a Ukrainian lawmaker who U.S. officials have described as a Russian agent and part of a broader Russian effort to denigrate the Democratic presidential nominee.

Yet Giuliani says foreign sources didn't provide the Hunter Biden emails. He says a laptop containing the emails and intimate photos was simply abandoned in a Delaware repair shop and the shop owner reached out to Giuliani's lawyer."
Posters on Facebook are not the only ones claiming, incorrectly, that the mainstream media has passed on covering the allegations raised against Hunter Biden and his father's influence. In fact, U.S. Senator Ron Johnson, a Wisconsin Republican, issued this statement on the page of the U.S. Senate Committee on Homeland Security & Governmental Affairs, which he chairs (boldface text is from the original statement):
WASHINGTON - U.S. Senator Ron Johnson (R-Wis.) criticized the mainstream media for ignoring findings from his committee's investigation into conflicts of interest concerning the Biden family during an interview with Sean Hannity on Fox News Monday night.

An excerpt from the interview is below. Video can be found here.

"Hunter Biden, together with other Biden family members, profited off the Biden name. That's what's happening here. What we revealed in our 87-page report is a vast web of connections with Chinese nationals, with people all over the world. Again, trading on the Biden name. But it's these business dealings - you know, our report raises far more questions than it actually answered - but it raises so my troubling issues that the mainstream media is simply not looking at. They are suppressing the information, which is a scandal in and of itself."
Here is the committee's summary of that report from September 23, 2020.