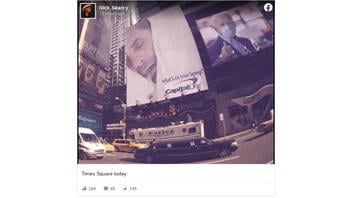 Did someone install a giant billboard on Times Square featuring the photo of sleeping Hunter Biden alongside a billboard of his father Joe Biden giving a thumbs up? No, that's not true: This street scene image of the billboard is generated virtually by an app on the website photofunia.com. The app combines images from the site's library with images the user uploads to create customised pictures. It was a joke.
The claim originated in a post (archived here) where it was published on October 21, 2020, with the caption, "Times Square Today."
This is what the post looked like on Facebook at the time of writing:
(Source: Facebook screenshot taken on Thu Oct 22 14:20:36 2020 UTC)
The PhotoFunia website offers a large variety of customizable image options and this streetscene is listed in the 'Streets of New York' collection from the available billboard designs. When choosing this option, a user uploads two different photos, one for each of the billboard panels. The website invites users to try it out:
They say, only a New Yorker doesn't dream of being in New York. Perhaps also only a New Yorker does not dream of being on an advertising billboard in Big Apple.
This PhotoFunia sample image shows two angles of a model's photoshoot. The streetscene is warped by a fisheye lens so the street in the distance and upper floors of the buildings show. The image posted on Facebook featuring the Bidens has been cropped to focus more on the billboards, but the vehicles, the limo, police mobile command vehicle and the other billboards in the scene are all the same.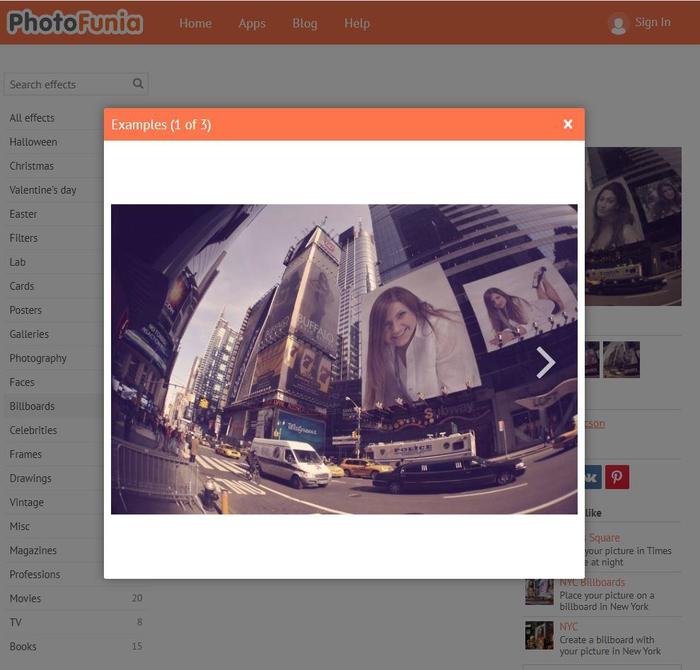 The source image for the virtual Joe Biden billboard is from Reuters photographer Kevin Lamarque and appeared in the October 8, 2020, CNBC article "Biden's polling lead over Trump grows in wake of debate and president's Covid diagnosis"
The source image of the Hunter Biden billboard was published on October 14, 2020, by the New York Post and was purportedly found on Biden's abandoned laptop. This is the "What's on your laptop?" reference using a take-off on the Capital One credit company slogan, "what's in your wallet?'
The Hunter Biden image was at the center of another prank Lead Stories recently debunked: Fact Check: Snopes Did NOT Fact Check A Claim That Photo Showed Hunter Biden Asleep With A Crack Pipe By Concluding It Was A Meth Pipe