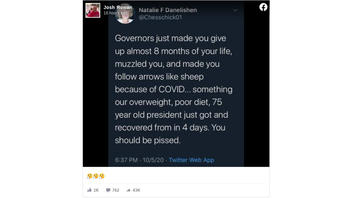 Did President Trump contract COVID-19 and recover from it in four days? No, that's not true: The timeline is subject to debate, but White House statements indicate the president tested positive on October 1, 2020. Trump announced Oct. 7, 2020 that therapeutic drugs had him feeling better, but no medical expert has declared him recovered and he is still considered infectious.
The claim appeared in a meme posted to Facebook (archived here) on the Natalie F. Danelishen page on October 7, 2020. It opened:
Governors just made you give up almost 8 months of your life muzzled you, and made you follow arrows like sheep because of COVID... something our overweight, poor diet, 75 year old president just got and recovered from in 4 days. You should be pissed.
This is what the post looked like on Facebook at the time of writing:
(Source: Facebook screenshot taken on Wed Oct 7 21:47:27 2020 UTC)
The U.S. Centers for Disease Control and Prevention say a person is "recovered" from the novel coronavirus when:
...the patient has not had a fever for at least 72 hours, symptoms have improved, and at least seven days have passed since their first symptom. If a patient is to be tested, they also need to receive two negative tests in a row at least 24 hours apart.
Four days before the claim was posted to Facebook, White House Doctor Sean Conley was still cautioning the public that the president was "Not yet out of the woods."
Conley had not, at the time of this writing, changed that status.
October 7, 2020, Conley released a report noting lab tests found in Trump's system the antibodies that fight COVID-19, a sign the virus is still active in Trump's system.
Live viruses have been found in lab tests of people who have recovered from COVID-19 long after recovery, the U.S. Centers for Disease Control and Prevention has reported.
Data to date show that a person who has had and recovered from COVID-19 may have low levels of virus in their bodies for up to three months after diagnosis, according to the CDC.
Trump has declared himself "cured." In a video released via Twitter October 7, 2020, the president said therapeutic --- as opposed to preventive or curative -- drugs have him feeling much better than he did on Friday, October 2, 2020 when he was flown to Walter Reed National Military Medical Center with difficulty breathing and low blood oxygen readings:
I guess they are therapeutic...it's a cure. For me, I walked in, I didn't feel good, a short 24 hours later I was feeling great...I feel great. I feel, like, perfect.
On October 6, five days after the President tested positive, The White House announced the procedures were in place to protect White House residence staff working with Trump from infection:
With the recent positive results of the President and First Lady, staff wear full PPE and continue to take all necessary precautions, which include updated procedures to protect against cross contamination.