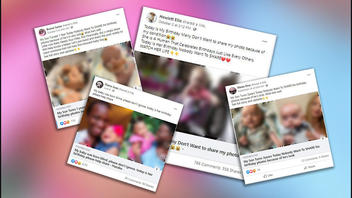 Did a mother publish photos of her baby along with a plea for the public to share the post and wish him a Happy Birthday? No, that's not true: These photos were taken from the mother's blog without permission and are being used as "engagement bait" by a shady network of websites. It is not the baby's third birthday. The baby's mother is NOT asking people to share these posts or links -- quite the opposite, she wants all of it taken down!
The story reappeared, much to the mother's dismay, for the second time this year, published by yet another website, HOZOBO.COM, linked in a post (archived here) where it was posted by the spammer, Vanguardia Susan, into the group 'Amazing World' on September 26, 2020. The post was captioned as if Vanguardia is the baby's mother:
My Son Turns 3years Today Nobody Want To SHARE his birthday photos because of he's look. Wish him well

See full story and updates
This is what the post looked like on Facebook at the time of writing: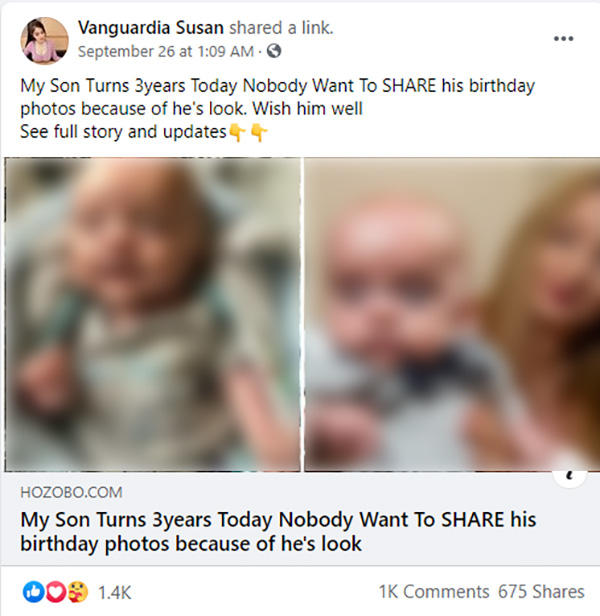 Screenshot of how the post appeared on October 7, 2020 (Blur added by Lead Stories)
In Late May of 2020, this mother was shocked to discover that photos of her baby had been taken from her blog and were being used by a clickbait blog called 4ALLBIRTHDAY.BLOGSPOT.COM. She wrote a post that said:
Genuinely feel sick at what I've just been showed! Some horrible person has made this blog that you cannot view now as it has been taken down of my beautiful boy! Honestly so angry, some people really are just vile.
The deleted blog's social card (the photos and headline captioning) were still visible wherever the spammers had posted it on Facebook even though the blog-post itself was gone, likely removed by the Blogger platform because of a violation. The deceptive blogpost was titled, "My son turns 4 years today but because of his look Nobody want to SHARE his Birthday Photos." (In reality, the baby isn't even 2 years yet.) Below is a screenshot of that post from last May. Another screenshot shows her distressed comments on one of the recent "Miracle Baby" spam posts where her stolen photos were used again, this time by the website HOZOBO.COM. She implored the members of the group CONVERTS NETWORK, with a half a million members, to please report the post.
One reply seems oblivious to her despair. "Happy birthday dear," it says.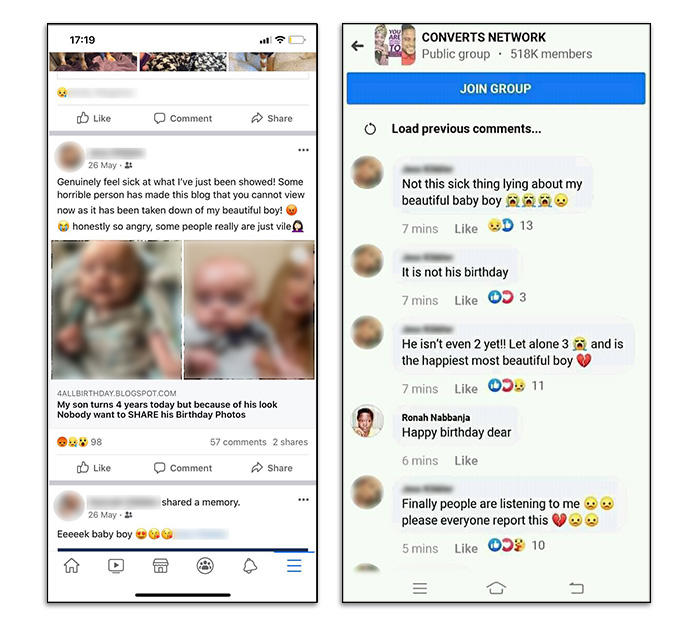 This mother is not alone in that her photos were stolen and her family's story misrepresented for some complex scheme. This is a well-known business model of these scam sites. A cluster of websites that appear to be registered in Vietnam but are heavily intertwined with African groups and spammers have similar names and are producing virtually identical content.
That content is pushed by a large number of spamming profiles into many groups. The tactical engagement baiting, for comments and shares further lifts the post's visibility in Facebook's algorithm. Some supporting actors reshare the posts made by the influencers, who have even added self-promotional captioning to their posts. Still other network spammers add lift by commenting on the network posts. It's not uncommon for these spamming profiles to have hundreds of thousands of followers. The posts get an unlikely amount of engagement because of this fake manipulation of Facebook's surfacing design.
Examples of other families' baby photos being turned into manipulative clickbait are in the collage below. One article, posted by the spammer Hewlett Ellie, with a puppy for a profile picture (this puppy will play into a future article) features a little girl whose story received quite a bit of publicity back in 2016. That photo appeared in the ABC story about her, "Tiny Tot Cruises in Her Homemade Wheelchair" on August 16, 2016. As far as the clickbaiters are concerned, time is irrelevant, every day is the birthday.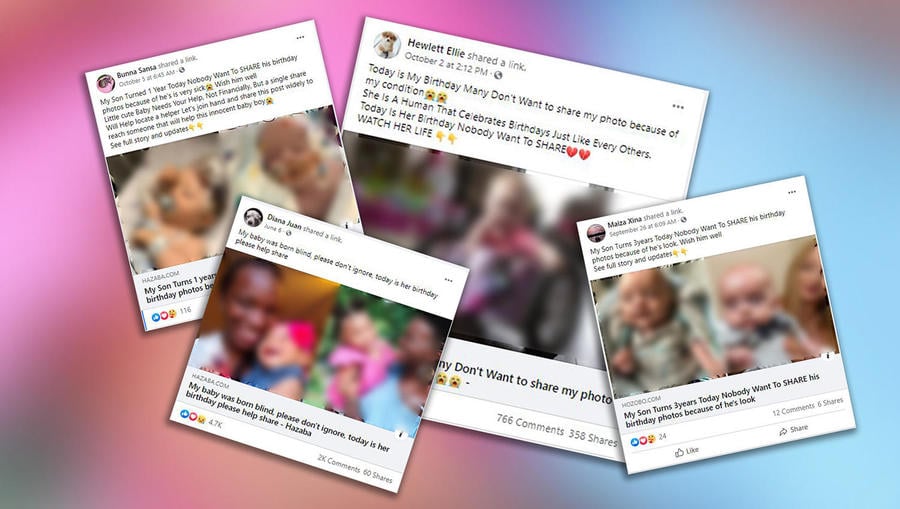 The websites are named HOZOBO.COM, WOZOLO.COM and HAZABA.COM. The screenshot below shows the engagement since October 2, 2020, for the website HAZABA.COM on Facebook. It shows that two versions of the Miracle Baby story have had the top engagement of all the articles on the website. This is because their artificial spamming has only focused on these links, this is not a natural traffic pattern. At the top of the list is that giant group the CONVERTS NETWORK, with over 50,000 engagements. Each of these entries in the CrowdTangle search results should open the post in a new window, but for some perplexing reason, two entries, one for the page Bible Studies, and one for Prayer Warriors of Christ, rather than opening a post of the HAZABA.COM Miracle Baby story, open a post promoting the CONVERTS NETWORK! A bait-and-switch, as if the Miracle Baby article was used to get shares, and then once that post was shared thousands of times, the link was swapped to promote that gigantic group.

Data from
CrowdTangle
, a public insights tool owned and operated by Facebook.


Lead Stories has written about complex clickbait networks like this is the past, and will revisit this HAZABA.COM network -- and find out more about that puppy.
Fact Check: That Heart-Wrenching Photo You 'Need' To Share Is Likely A Malware Scam
Fact Check: Photo Does NOT Show Mother And Premature Baby With Coronavirus