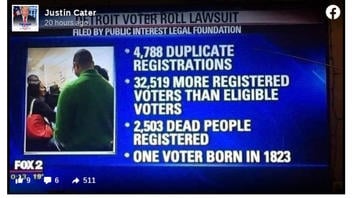 Does an apparent TV news graphic featuring a Detroit voter roll lawsuit indicate that there are thousands of duplicate voter registrations and dead registered voters? No, that's not true: The graphic contains figures from a lawsuit filed in 2019, in which the Public Interest Legal Foundation claimed Detroit was keeping inaccurate and out-of-date voter rolls. The voter rolls were updated to the Public Interest legal Foundation's satisfaction by June 30, 2020, well before the November 3, 2020 elections and subsequent vote counts.
The claim appeared in a post (archived here) published on Facebook on November 4, 2020, and included a screenshot of what appears to be a Fox 2 Detroit news graphic. It included such bullet points as:
4,788 duplicate registrations

32,519 more registered voters than eligible voters

2,503 dead people registered, and one voter born in 1823
This is what the post looked like on Facebook at the time of writing:
(Source: Facebook screenshot taken on Thu Nov 5 21:04:33 2020 UTC)
There was no comment or sourcing with the image of the graphic, only the numbers and words shown.
Amy Lange, an anchor and reporter with Fox 2 Detroit and the author of the station's 2019 report on the lawsuit, told Lead Stories in an email on November 5, 2020, that the graphic appears to have come from a newscast related to her story and aired in 2019. She highlighted the date discrepancy by noting that the bottom left corner of the graphic indicates temperature of 19 degrees in Detroit, saying, "It's 63 in Detroit today."
The Public Interest Legal Foundation, an organization based in Indiana, filed the lawsuit against the City of Detroit in December 2019. The lawsuit claimed the city hadn't kept accurate or current voter rolls, resulting in thousands of duplicate voter registrations and dead registered voters. The organization explained in a statement on December 11, 2019, that as many as 4,788 voter registrations could have been duplicated or even triplicated and 2,503 registered voters were likely deceased.
The lawsuit claimed the city wasn't conducting "lawful programs to remove ineligible registrants from the voter rolls by reason of the death of the registrant."
It added:
As a result, the City of Detroit's voter rolls contain thousands of ineligible deceased registrants, some who have been dead for extraordinary amounts of time, and the Defendants do not have a reasonable list maintenance program to detect and remove deceased registrants from the rolls.
By June 30, 2020, the Public Interest Legal Foundation announced in a statement on its website that the lawsuit had been resolved after officials in Michigan "acted on data provided to them by the Public Interest Legal Foundation."
Legal documents with the motion for voluntary dismissal stated:
Defendants have taken action on the list of likely deceased registrants provided by the Plaintiff. Further, almost all of the duplicate registrations that Plaintiff brought to Defendants' attention have been corrected.
Public Interest Legal Foundation President and General Counsel J. Christian Adams said in a statement on the organization's website:
This is another win for election integrity. This case wasn't complicated. The City of Detroit could have started to fix these problems before litigation, but didn't. Other jurisdictions should take note- if you don't act on solid data that your voter rolls are corrupted with dead and duplicate registrations, you will be sued.
Snopes and Politifact recently debunked the claim implied by the Facebook post.