STORY UPDATED: check for updates below.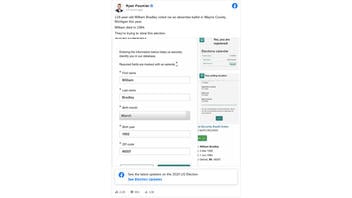 Did the Detroit clerk of courts count an absentee ballot from a 118-year-old voter ? No, that's not true: A Detroit elections official said a clerical error led to a ballot from a man with a similar name being incorrectly logged.
The claim appeared in a Facebook post (archived here) published November 5, 2020. It opened: "118-year-old William Bradley voted via an absentee ballot in Wayne County, Michigan this year." It continued:
William died in 1984. They're trying to steal this election.
This is what the post looked like on Facebook at the time of writing:
(Source: Facebook screenshot taken on Thu Nov 5 18:41:49 2020 UTC)
Daniel Baxter, special project election consultant for the Detroit Department of Elections, explained why it appeared a dead man had voted.
"No ballot for the 118-year-old Mr. Bradley was ever requested, received or counted. A man with a nearly identical name requested a ballot and voted properly in both the primary and general elections," he wrote in an email. "When his ballot was initially logged, however, it was incorrectly attributed to the William Bradley born 118 years ago through a clerical error."
In a November 5, 2020 telephone interview with Lead Stories, William Tarnell Bradley, son of the man, who died in 1984, said he contacted elections officials after he began receiving telephone calls about his deceased father voting by absentee ballot in this presidential election. He said the mistaken case of his deceased father voting had gone viral on social media. His father lived at the same address where his son now lives, but the elder Bradley did not have a middle name, he said. The son said he had voted by absentee ballot in the November 3 election because of the pandemic.
"I contacted them [elections officials] after people started calling me," he said. "I just wanted to get it correct because I don't deal with fraud. I wanted them to realize that there must have been a mistake. I discarded my father's ballot to make sure that I didn't make a mistake and send it in."
He said elections officials told him that no absentee ballot had been received in his father's name. He said they told him that a voter's date of birth and signature are among the items that are checked before a ballot is cleared to be counted.
The Facebook post making the claim contains screenshots from the Michigan Voter Information Center, which is run by the Michigan secretary of state's office. The screenshots were offered as evidence that William Bradley voted by absentee ballot. A search on the website will show incorrectly, due to the clerical error, that the Detroit clerk of court's office received an absentee ballot from a William Bradley, born in March 1902, on Oct. 2, 2020.
The Facebook post also contains a screenshot from a "Social Security Death Index," showing a William Bradley of Detroit, who was born in 1902, died in 1984.

Tracy Wimmer, director of media relations for Secretary of State Jocelyn Benson, said there are safeguards against dead people voting in Michigan.
"Ballots of voters who have died are rejected in Michigan, even if the voter cast an absentee ballot and then died before Election Day," Wimmer wrote in an email. "On rare occasions, a ballot received for a living voter may be recorded in a way that makes it appear as if the voter is dead. This can be because of voters with similar names, where the ballot is accidentally recorded as voted by John Smith Sr when it was actually voted by John Smith Jr; or because of inaccurately recorded birth dates in the qualified voter file; for example, someone born in 1990 accidentally recorded as born in 1890. In such scenarios, no one ineligible has actually voted, and there is no impact on the outcome of the election. Local clerks can correct the issue when it is brought to their attention."
2020-11-06T03:20:58Z

2020-11-06T03:20:58Z

Updated to add interview with William Tarnell Bradley.