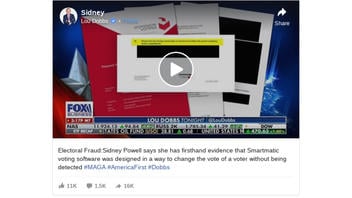 Do Dominion voting machines use Smartmatic vote counting software? No, that's not true. The companies are rivals and have been involved in legal battles against each other. President Donald Trump's attorney Sidney Powell has claimed that the election results in favor of Joe Biden are inaccurate, insinuating the frequently used Dominion voting machines were compromised because they used software from Smartmatic, which she accused of nefarious actions in the election in Venezuela on behalf of Hugo Chavez.
The claim appeared as a post (archived here) published on Facebook on November 16, 2020. It opened:
Electoral Fraud:Sidney Powell says she has firsthand evidence that Smartmatic voting software was designed in a way to change the vote of a voter without being detected #MAGA #AmericaFirst #Dobbs
This is what the post looked like on Facebook at the time of writing:
(Source: Facebook screenshot taken on Wed Nov 18 21:35:06 2020 UTC)
Lawyer Sidney Powell appeared on Lou Dobb's show on FOX Business where she made the claim, "The Smartmatic software is in the DNA of every vote tabulating company's software and system." The claim has been echoed throughout social media on other posts.
This is untrue. Smartmatic software is not in every vote tabulating software and system used in the United States. Lead Stories has already debunked the claim that Dominion and Smartmatic are even connected. Dominion bought Sequoia Voting Systems, a now-bankrupt California firm, in 2010. Sequoia had been previously owned by Smartmatic, which sold it in 2007 -- three years before Dominion bought it. Sequoia is no longer in business after filing for voluntary bankruptcy in 2014.
Dominion Voting Systems published a fact-check on its official website titled, "ELECTION 2020: SETTING THE RECORD STRAIGHT. FACTS VERSUS RUMORS." The corporation noted it does not use Smartmatic software [BOLD below by Lead Stories].

5) DOMINION IS NOT, AND HAS NEVER BEEN, OWNED BY SMARTMATIC.
Dominion is an entirely separate company and a fierce competitor to Smartmatic.
Dominion and Smartmatic do not collaborate in any way and have no affiliate relationships or financial ties.
Dominion does not use Smartmatic software.
The only associations the companies have ever had were:
- In 2009, Smartmatic licensed Dominion machines for use in the Philippines. The contract ended in a lawsuit.
- In 2010, Dominion purchased certain assets from Sequoia, a private U.S. Company. Smartmatic, a previous owner of Sequoia, pursued legal actions against Dominion.
Smartmatic also published a detailed list about the US Elections 2020. "Misinformation is dangerous. Get accurate facts about Smartmatic and its techologies." The website noted:
Is Smartmatic's software used in other company's voting machines?
No. Smartmatic's software is not licensed or otherwise used by other companies."