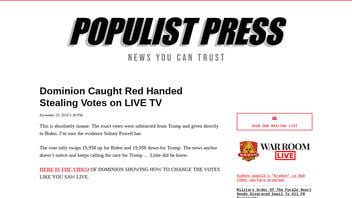 Was Dominion Voting Systems "caught red handed stealing votes on live TV"? No, that's not true: A video claiming to show an unexplained vote change taking votes away from Donald Trump and giving the exact same number to Joe Biden on election night is false for two reasons. The numbers were "transposed in the data field that went to CNN and all NEP members," a CNN source with direct knowledge told Lead Stories. Also, the numbers shown on CNN are part of the National Election Pool (NEP) delivered by Edison Research and not generated by Dominion Voter Systems, which only tabulates votes at the local level and does not provide data directly to news networks.
The claim appeared in an article (archived here) where it was published by Populist Press on November 23, 2020, under the title "Dominion Caught Red Handed Stealing Votes on LIVE TV". It opened:
This is absolutely insane. The exact votes were subtracted from Trump and given directly to Biden.
This is what the article looked like when it was published: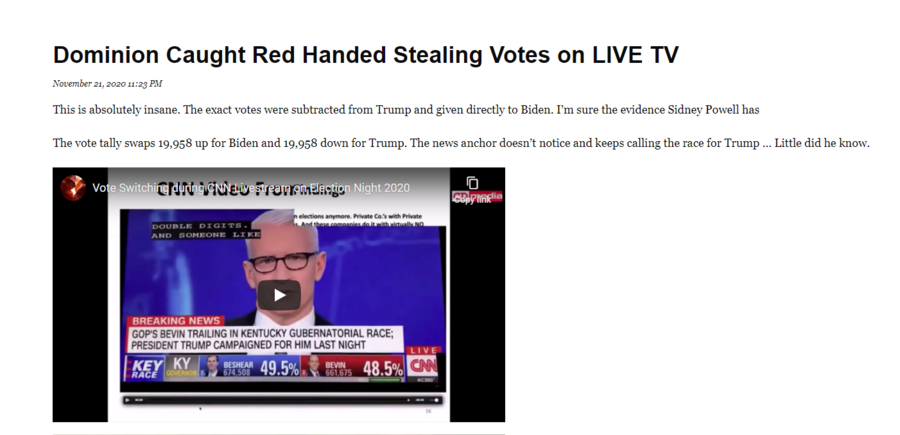 The article claims:

The vote tally swaps 19,958 up for Biden and 19,958 down for Trump. The news anchor doesn't notice and keeps calling the race for Trump ... Little did he know."

There is a video embedded in the post in which a woman speaks about a video another person has taken from election night showing the graphics on CNN changing votes in Pennsylvania from a total of 1,690,589 for Trump and 1,252,537 for Biden. As the news on CNN continued, the numbers switch to 1,670,631 for Trump to 1,272,495 for Biden. That's a difference of 19,958 in each case.
A CNN source with direct knowledge of the election night broadcast explained to Lead Stories on November 24, 2020 why the numbers changed on air.

For one brief moment, the Trump votes and Biden votes in Armstrong County, PA were transposed in the data feed that went to CNN and all NEP members. It was quickly fixed and the accurate report was restored.

This is normal and occasionally happens throughout states on election nights. State systems and our systems catch these human errors and flag them for correction.

This correction is not CNN specific. This data auto populates with NEP data which comes from both the local reporting authorities and NEP's vote reporters.

Edison Research is a company that provides the exit-polling and real-time vote reporting to almost all of the major networks, called the National Election Pool (NEP). FOX News used the Associated Press numbers in the 2020 General Election. From Edison Research website:

For the 2020 General Election, Edison Research provided the NEP with a fast and accurate vote count throughout the nation, providing data for all statewide races and all House races.


Edison Research is not Dominion Voting Systems. Lead Stories has debunked multiple claims regarding Dominion and alleged voter fraud. Dominion posted a message on its website stating:
2) VOTE DELETION/SWITCHING ASSERTIONS ARE COMPLETELY FALSE.
An unsubstantiated claim about the deletion of 2.7 million pro-Trump votes that was posted on the Internet and spread on social media has been taken down and debunked by independent fact-checkers.
Edison Research (ER) has refuted any claims that company data suggests any voting irregularities, including vote switching. Edison Research President Larry Rosin told The Dispatch Fact Check, "Edison Research created no such report and we are not aware of any voter fraud."