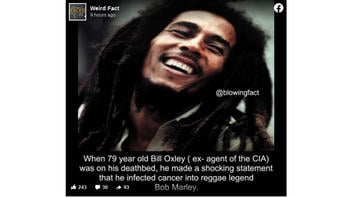 Did a former CIA agent confess on his deathbed that he infected reggae legend Bob Marley with cancer? No, that's not true: There is no record of a now-deceased CIA agent named Bill Oxley, beyond a story published in 2017 and later deleted by the publisher, who explained to Lead Stories it was unpublished in a purge of unreliable conspiracy stories on the site.
The claim appeared as a meme in a post (archived here) where it was published by the Weird Fact Facebook page on November 24, 2020. It read:
When 79 year old Bill Oxley (ex agent of the CIA) was on his deathbed, he made a shocking statement that he infected cancer into reggae legend Bob Marley.
This is what the post looked like on Facebook at the time of writing:
(Source: Facebook screenshot taken on Tue Nov 24 21:12:44 2020 UTC)
The original article published by YourNewsWire.com on November 20, 2017, was titled "CIA Agent Confesses On Deathbed: 'I Killed Bob Marley'". Here is a link to an archived version. It opened:
A 79-year-old retired officer of the CIA, Bill Oxley, has made a series of stunning confessions since he was admitted to the Mercy Hospital in Maine on Monday and told he has weeks to live. He claims he committed 17 assassinations for the American government between 1974 and 1985, including the music icon Bob Marley.

Mr. Oxley, who worked for the CIA for 29 years as an operative with top-level security clearances, claims he was often used as a hitman by the organization, to assassinate individuals who could represent a threat to the goals of the agency.
Former YourNewsWire publisher Sean Adl told Lead Stories in May 2020 that he deleted unsupported conspiracy stories from his website:
When I closed YourNewsWire down in late 2019 and moved to NewsPunch, the focus on what we would cover editorially changed and it was decided that we would no longer cover unreliable conspiracies whilst also being much more responsible in fact-checking content before publishing.

This shift in our editorial standards meant that old, outdated conspiratorial content like this no longer had a place on the website. This was one of many articles that got deleted after making the move, primarily due to the fact that the source of the information (Sorcha Faal) is somebody I now consider unreliable.
Marley was 36 when he died of cancer on May 11, 1981.
Click bait conspiracy websites have published a series of false claims about former CIA agents' deathbed confessions. Lead Stories previously debunked another titled Fake News: Retired CIA Agent Did NOT Confess on Deathbed He Killed Marilyn Monroe