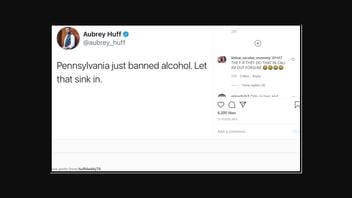 Has Pennsylvania banned alcohol? No, that's not true, with one specific and limited exception: State officials banned the sales of alcohol for on-site consumption in bars and restaurants from 5 p.m. Thanksgiving-eve to Thanksgiving morning at 8 a.m. to discourage large crowds during a rise in COVID-19 cases.
The claim appeared in an Instagram post (archived here) where it was published by former Major League Baseball player Aubrey Huff on November 23, 2020 with the caption, "Now they're trying to tell us we can't drink our way through this! 🤦🏻‍♂️". The Instagram post, which was a screenshot of his own tweet, read:
Pennsylvania just banned alcohol. Let that sink in.
This is what the post looked like at the time of writing:
Pennsylvania Gov. Tom Wolf and Secretary of Health Dr. Rachel Levine announced new COVID-19 mitigation efforts on November 23, 2020, as cases quickly rise in the state. These restrictions included banning the sale of alcohol for on-site consumption at bars, restaurants, and private catered events from Thanksgiving-eve at 5 p.m. to 8 a.m. the next morning to "specifically address large crowds."
The governor's "Retail Food Services Mitigation Order" cites Pennsylvania's COVID-19 numbers as of November 21, 2020, as 302,564 positive cases of COVID-19 spread through all 67 counties, and 9,801 deaths from the coronavirus. Pennsylvania "is now recording daily COVID-19 cases and hospitalizations in greater numbers than at any other time during this pandemic," according to the order.
The order applies specifically to on-site consumption of alcohol and adds, "Take-out alcohol sales are not restricted by this Order and may continue ... "
After the order was announced, Huff took to social media, stripping the new, temporary restriction of all its explanation and details.
Alcohol has not been banned in Pennsylvania.