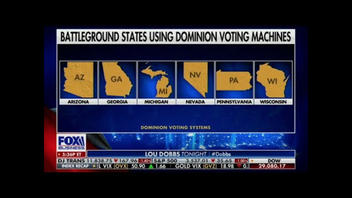 Is Dominion Voting Systems software developed by engineers from Venezuela and were votes sent to servers in Spain? No, that's not true. Government and independent election technology experts confirm what Dominion's spokesperson says: Dominion, founded by Canadians, is headquartered in Denver, Colorado. Votes are not stored on servers in Spain, since computer election systems avoid any connection to the internet in order to reduce vulnerability to hackers.
The claims originated in a video published by YouTube on November 13, 2020 titled "Giuliani: Dominion Software Developed by Engineers from Venezuela, Votes Sent to Servers in Spain" (archived here) which was also labelled:
Rudy Giuliani: Dominion Systems Using Software Developed by Engineers from Venezuela, Votes Sent to Servers in Spain
Click below to watch the video on YouTube:
Rudy Giuliani, President Trump's personal lawyer, made the claims on Lou Dobbs' FOX Business News show, going on to claim Dominion is owned by the company Smartmatic through Indra Sistema, a Spanish company, that votes collected using Dominion software cannot be audited and that his undocumented claims are proof votes were compromised in the election which his client lost.
Lou Dobbs opened his show on FOX News announcing, "President Trump is zeroing in on Dominion voting machines," introducing Giuliani, who made the claims about the machines that were used in multiple states during the November 2020 presidential election.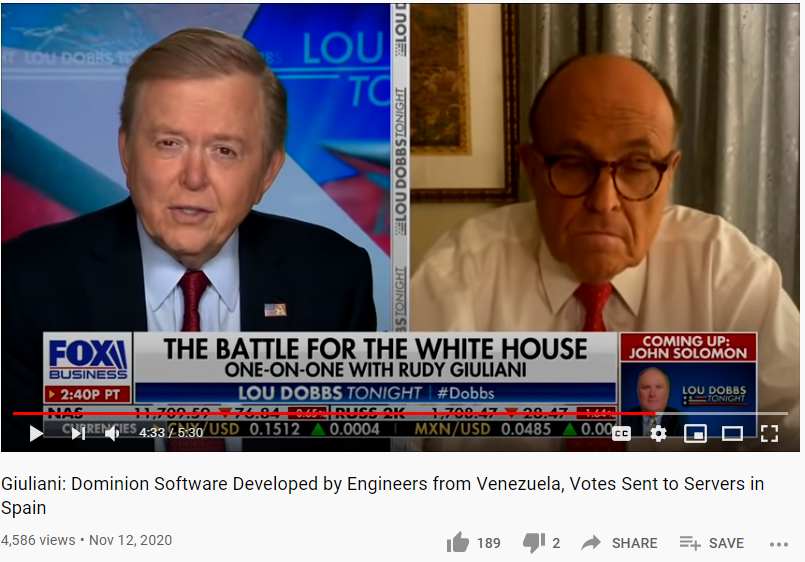 Among Giuliani's assertions:
Dominion is a company that's owned by another company called Smartmatic through an intermediary company named Indra.

Smartmatic is a company that was formed way back in about 2004 and it was formed in order to fix elections...That's the company that owns Dominion. Dominion is a Canadian company but all of its software is Smartmatic software so the votes actually go to Barcelona, Spain. We're using a foreign company that is owned by Venezuelans who are close to Chavez.
The claims made by the former New York mayor are directly refuted by staff of the Cybersecurity & Infrastructure Security Agency (CISA), a division of the U.S. Department of Homeland Security, who risk reprimand or worse. On Nov. 12, 2020, CISA posted a message about its cybersecurity and infrastructure experts' assessment of the election:
The November 3rd election was the most secure in American history. Right now, across the country, election officials are reviewing and double checking the entire election process prior to finalizing the result.

When states have close elections, many will recount ballots. All of the states with close results in the 2020 presidential race have paper records of each vote, allowing the ability to go back and count each ballot if necessary. This is an added benefit for security and resilience. This process allows for the identification and correction of any mistakes or errors. There is no evidence that any voting system deleted or lost votes, changed votes, or was in any way compromised.
Giuliani's claims are inconsistent with the way modern election systems operate, said Edward Perez, an election technology and security expert at the Open Source Election Technology (OSET) Institute. Perez, who has worked in election technology and election administration for 17 years, said in a November 13, 2020 phone interview with Lead Stories that Giuliani "appears to be making some wild and baseless connections between several unrelated companies."
Perez explained that Dominion would not be outsourcing software and would not be using Smartmatic software for its voting machines.
To the best of my knowledge Dominion Voting System is responsible for developing its own software which is used to support its customers in the United States.
Perez detailed why Giuliani's claims about Dominion storing votes on a server in Spain is incorrect, noting that election systems avoid internet connectivity as it presents a security risk.
Broadly speaking, the vast majority of election jurisdictions in the U.S. use 'air-gapped voting systems,' meaning that their voting machines and their election management computers are not connected to external networks.

While a limited number of jurisdictions use wireless modems (for) the transmission of unofficial results, which is generally regarded as a poor security practice, most jurisdictions keep their voting machines and their cast-vote record separate from any other infrastructure.
Dominion describes itself as a U.S. company, founded in Canada by CEO John Poulos and James Hoover. The headquarters are now in Colorado, with offices in in Toronto, Canada, New York, and California. Bloomberg has also verified and reported that account of its origins.
When asked for comment about Giuliani's claims, Dominion responded via email directing Lead Stories to a page on its website titled, "SETTING THE RECORD STRAIGHT: FACTS & RUMORS:"
Dominion has no company ownership relationships with any member of the Pelosi family, the Feinstein family, or the Clinton Global Initiative, Smartmatic, or any ties to Venezuela. Dominion works with all political parties; our customer base and our government outreach practices reflect this nonpartisan approach.

There were no Dominion software glitches and ballots were accurately tabulated. The results are 100% auditable.
Smartmatic says on its corporate website it was founded in 1997 by three Venezuelan engineers, Antonio Mugica, Alfredo José Anzola and Roger Piñate. They incorporated in the United States in Delaware in 2000 and established their headquarters in Florida. The company website notes they are,"the global leader in secure, accessible, transparent election technology & support services."
Indra Sistemas is a Madrid, Spain-based company and a direct competitor of Smartmatic, according to Owler.com, not a subsidiary that also owns Dominion.
There is no publicly available evidence that Smartmatic owns Dominion via Indra Sistemas, nor did Giuliani or Dobbs supply any.
Dominion and Smartmatic partnered together in 2009 for election services in the Philippines. The relationship ended with a lawsuit filed by Smartmatic in 2012.
"It appears that the US-based Dominion Voting Systems, which supplied the election technology to Smartmatic for the Philippine elections, terminated its 2009 license agreement with the latter on May 23, 2012," Philstar Global reported.
Accesswire.com reported about the business relationship between Dominion and Smartmatic in an article titled, "Voting Technology Companies in the U.S. - Their Histories and Present Contributions."

Dominion entered into a 2009 contract with Smartmatic and provided Smartmatic with the PCOS machines (optical scanners) that were used in the 2010 Philippine election, the biggest automated election run by a private company. The automation of that first election in the Philippines was hailed by the international community and by the critics of the automation. The results transmission reached 90% of votes four hours after polls closed and Filipinos knew for the first time who would be their new president on Election Day. In keeping with local Election law requirements, Smartmatic and Dominion were required to provide the source code of the voting machines prior to elections so that it could be independently verified."