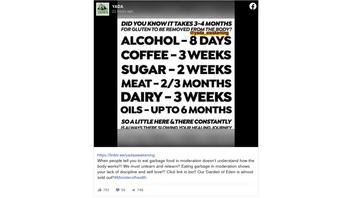 Is it true that it can take up to eight days or even six months for gluten in alcohol, coffee, sugar, meat, dairy and oils to leave one's body? No, that's not true. These drinks, foods and oils do not contain any gluten in their pure form, unless additives are put in. The notable exception could be alcohol such as, for example, beer. Even then, a consumer could opt for a gluten-free beverage. The claim, promoted by a healthy eating site, is entirely false, according to an expert at Michigan State University.
The claim appears in a post (archived here) published to Facebook on November 3, 2020, by user YADA. The post, mostly a meme, opened with this:
When people tell you to eat garbage food in moderation doesn't understand how the body works!!! We must unlearn and relearn!! Eating garbage in moderation shows your lack of discipline and self love!!! Click link in bio!! Our Garden of Eden is almost sold out!!

#Ministerofhealth
This is what the post looked like on Facebook at the time of writing: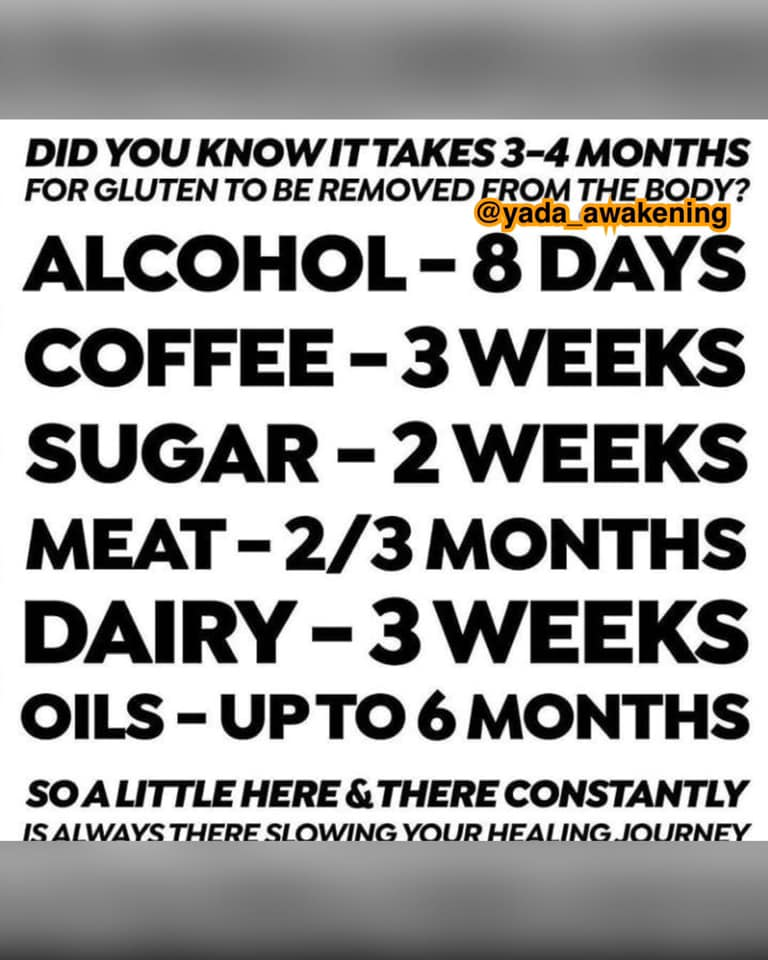 (Source: Facebook screenshot taken on Wed Nov 4 19:07:39 2020 UTC)
The post asks users on Facebook to visit the Twitter account @yadaawakening. The health information supposedly offered in the meme, however, is incorrect. None of the listed foods, beverages or ingredients contain any gluten whatsoever without additives. As pure substances, all are gluten-free, said Stephanie Marino, supervising educator managing nutrition, cooking and physical activity programs at Michigan State University's Kent County Extension Office.
In an interview with Lead Stories November 5, 2020, Marino added:
We always try to educate people on food labels and the ingredients of a product to find out exactly what is in it because food has become more and more processed. So things are added that you wouldn't think of. So certainly people who have gluten intolerances or sensitivities need to be careful and read the ingredients. But to make such broad statements like what you're mentioning...I don't know what the intent behind it would be."
Marino graduated Hope College with a degree in Psychology and got her masters at Western Michigan University in Family and Consumer Sciences, according to the MSU Extension's Facebook page.
As for the last statement in the meme -- "So a little here & there constantly is always there slowing your healing journey" -- there is little truth to it. In fact, gluten is rarely not handled well by people's bodies, although it can cause some health issues and diseases for some.
According to a paper published July 6, 2020 by StatPearls in the National Center for Biotechnology Information:
The five major illnesses associated with gluten are celiac disease, non-celiac gluten sensitivity, wheat allergy, gluten ataxia, and dermatitis herpetiformis. Each is distinct, but all are related and manageable.

Interprofessional work between primary care providers, gastroenterologists, nurses, dietician, and nutritionists are needed for optimal management."
Celiac disease is explained here as "an autoimmune disease and not a wheat allergy or the same as gluten sensitivity."
Non-celiac gluten sensitivity is found in people who have a prevalence of extraintestinal or non-GI symptoms, such as headache, "foggy mind," joint pain, and numbness in the legs, arms or fingers.
Gluten ataxia is described here as "an autoimmune disorder in which the antibodies that are released when digesting gluten attack part of the brain by mistake."
Dermatitis herpetiformis is explained here as "is a bumpy, itchy skin rash that's common in people with celiac disease."