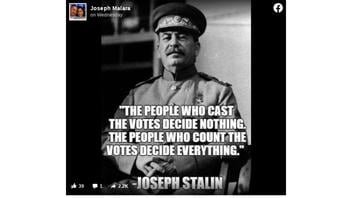 Did former Soviet dictator Joseph Stalin say that in a general election it does not matter who votes, but what matters is who is counting the votes? No, that's not true: While there are some indications Stalin may have made the quote about voting procedures at higher levels of the Communist Party, there is agreement among academics and experts that he never said it about a public election, if at all.
The claim, made during several previous elections, reappeared in a post (archived here) published on Facebook on November 4, 2020. It said:
The people who cast the votes decide nothing. The people who count the votes decide everything.
This is what the post looked like on Facebook at the time of writing:
(Source: Facebook screenshot taken on Thu Nov 5 17:47:17 2020 UTC)
Joseph Stalin, a brutal dictator who ruled the Soviet Union from the 1920s until his death in 1953, had no interest in public elections. So there's widespread agreement among Soviet experts that he never said what matters in an election is who counts the votes.
Golfo Alexopoulos, director of the University of South Florida Institute on Russia and an authority on Stalin, holds to that viewpoint, telling Lead Stories in an email:
I have never encountered this quote in my research on Stalin and Stalinism. But based on what I know, it doesn't sound right to me. It doesn't sound like something Stalin would say. This is because Stalin didn't care about counting votes. For him, elections were acts of social mobilization and political affirmation, and the results were entirely fabricated. I don't even think there was any actual counting involved.

Authoritarians don't care about counting, except if they're hunting down dissenters.
Other notable Stalin experts also doubt Stalin said that. PolitiFact, which looked into the quote in March 2019, quoted UCLA history professor J. Arch Getty:
I am not aware of any original source for this, and in my extensive archival research in Stalin's personal archive, I found nothing like this. There are many apocryphal quotes wrongly attributed to Stalin, and I think this is one of them.
There are indications, however, that Stalin may have made a similar statement, but that it had to do with contests within the Communist Party, not general elections.
According to the Oxford Essential Quotations, a book by Boris Bazhanov called "The Memoirs of Stalin's Former Secretary" reports that in 1923 Stalin said:
I consider it completely unimportant who in the party will vote, or how; but what is extraordinarily important is this -- who will count the votes, and how.
Ronald Grigor Suny, the William H. Sewell Jr. Distinguished University Professor of History at the University of Michigan, believes Stalin said it. He told Lead Stories in an email:
The source for this quote is reliable.
But Stalin wasn't talking about general elections, Suny wrote in his email:
Stalin was talking about voting within a party meeting of some kind, a conference, a committee, or a congress, not a general election of the population. At Social Democratic conferences and congresses a lot of time and discussion was taken up on the matter of who had the right to vote, who had a mandate conferred by constituents or the rules.
Mark Kramer, director of the Cold War studies program at Harvard University, told Lead Stories in an email that Bazhanov meant Stalin was referring to voting procedures for higher levels of the Communist Party.
Even if Bazhanov is accurate in recording what Stalin said, it has nothing to do with counting votes in a democratic polity. It is referring to the tabulation of votes by a small number of people (members of the Communist Party's Central Committee) for higher party organs in a Communist dictatorship. The vote-taking in such bodies was mostly just a ritualistic confirmation of results that had been decided in advance by the party's leaders.
Kramer has previously indicated it's not certain Stalin even said it.