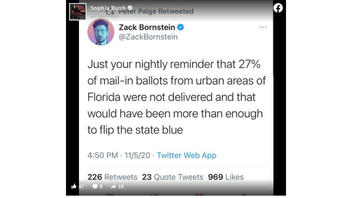 Did the USPS fail to deliver 27% of mail-in ballots from Florida's urban areas? No, that's not true: The 27% figure originates from a misinterpretation of USPS data that cropped up the day after Election Day. U.S. Postal Service officials said that the claim that there are unaccounted-for ballots is inaccurate.
The claim appeared in a Facebook post (archived here) where it was published by Sophia Bush on November 5, 2020. The post, which was a screenshot of a tweet, read:
Just your nightly reminder that 27% of mail-in ballots from urban areas of Florida were not delivered and that would have been more than enough to flip the state blue
This is what the post looked like on Facebook at the time of writing:
(Source: Facebook screenshot taken on Fri Nov 6 14:28:40 2020 UTC)
Many mail-in ballots across the country intentionally did not receive exit scans in an effort by the postal service to speed up the delivery of ballots to local election offices, leading people to incorrectly believe that some 300,000 ballots went unaccounted for.
Martha Johnson, a senior public relations representative for the USPS, provided the following statement in an email to Lead Stories:
The assumption that there are unaccounted ballots within the Postal Service network is inaccurate. These ballots were delivered in advance of the election deadlines. We employed extraordinary measures to deliver ballots directly to local boards of elections. When this occurs, by design, these ballots bypass certain processing operations and do not receive a final scan. Instead, they are expedited directly to the boards of elections. We remain in close contact with state and local boards of elections and we do not currently have any open issues. Additionally, the Postal Inspection Service has physically inspected all plants that process ballots.

We will continue to accept, process and deliver ballots as they are entered into the network.
Ninety-seven percent of the 300,000 ballots in question were "delivered on-time," Johnson wrote in a follow-up email.
Falsehoods of this nature have been circulating since early on November 4, the day after Election Day, after postal data that seemed to show that approximately 300,000 ballots across several states were unaccounted for was introduced in U.S. District Court for the District of Columbia. Judge Emmett Sullivan was reportedly "incensed" at the news that there were some 300,000 ballots said to be unaccounted for. "The assumptions being made about Postal Service data supplied to the court are not accurate," said Johnson. Nonetheless, Judge Sullivan ordered the postal service to conduct sweeps of 27 facilities in battleground areas in an effort to find any lost ballots. Just 13 ballots were recovered, according to a statement from the USPS.
The Hill reporter John Kruzel broke the news of this data in a misleading tweet which went viral on the morning of November 4. He later clarified that the ballots were not actually missing.
Florida was not the only state at the center of these falsehoods. False claims about "lost" Georgia ballots started circulating on social media as well: