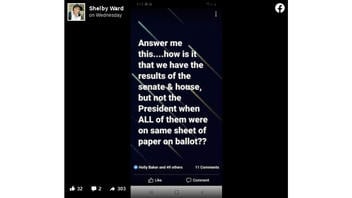 Is there something suspicious about House, Senate and Presidential winners not being identified all at the same time even though voters use just one ballot to vote in all those contests? No, that is not true. While voters use just one ballot, a House race is a small local contest, a Senate race requires a bigger statewide tally and the presidency is decided based on how all of those statewide tallies dictate the votes of members of the Electoral College, some of whose votes are tied to specific districts of their states.
Because different states and local jurisdictions count in-person and mail-in and drop-off ballots according to their own systems and release provisional tallies at different times, final tallies for each type of race are not available all at once and the apparent winner can change over time.
The claim appeared in a post (archived here) published on Facebook on November 4, 2020. It is simply a meme that read:
Answer me this....how is it that we have the results of the senate & house, but not the President when ALL of them were on the same sheet of paper on ballot??"
This is what the post looked like on Facebook at the time of writing:
(Source: Facebook screenshot taken on Fri Nov 6 15:03:45 2020 UTC)
Another common logical flaw with claims that over-simplify the tally process is that all the tallies will match up, which will not happen since voters can choose to vote in some races and not vote in others.
In some states, a race for the U.S. House could be clearly decided, if all counties in that district have released tallies, while a U.S. Senate race, because it's a statewide contest, could still be in doubt because other counties are still counting ballots. That same situation would delay declaration of a presidential winner because presidential candidates also run statewide.
All vote counts in the days after the election are provisional. Each jurisdiction has different rules about releasing a rolling series of numbers, noting if certain precincts or counties have not been added to the total and if absentee, mail-in and other non-in-person votes are included. Because each jurisdiction has different voting patterns, a candidate can be winning when the first jurisdictions report their tallies, but then lose when other the rest of the voting districts' tallies arrive.
Even an all-inclusive total announced in the week after election is subject to each state's process of double-checking tallies and clearing up clerical errors before announcing final official results, although those adjustments rarely change the outcome.
News media seek to project winners ahead of the official declaration. By analyzing past voting patterns of the districts or ballot types not yet counted, election experts calculate the likely break-down of votes in the not-yet counted jurisdictions to predict the eventual tally. In 2020, the big districts in Philadelphia were among the last added into Pennsylvania's statewide tally -- and because those are heavily Democratic areas, the early statewide winners didn't always match the final winners.
Because states are allocated Electoral College votes roughly based on population, a candidate's progress toward the winning 270 Electoral College votes is determined by winning Electoral College-vote-heavy states, which can also change the apparent winner over time. A presidential candidate winning early-reporting states can wind up losing when the big states finish counting.
The more sophisticated models take into account multiple past patterns, and emerging patterns in this election, such as the Biden campaign's struggle to attract Latino voters in Florida or the apparent shift in retiree voting patterns in Arizona. Not all media vote modelers agree, hence FOX News' early prediction that Biden had won Arizona, a "call" not made by other news organizations.
The Economist keeps a live count of all races -- House, Senate and presidential -- here.