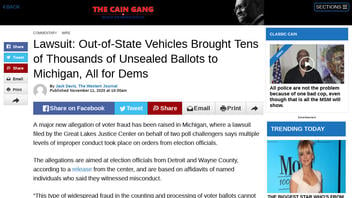 Does a lawsuit claim that out-of-state vehicles delivered tens of thousands of unsealed ballots -- all for Democrats -- into Michigan? No, that's not true: A lawsuit alleging voter fraud in Detroit does include a poll watcher's allegations that he heard other observers say that some out-of-state vehicles were seen delivering boxes of ballots to the central vote counting center, and that later he "heard counters say at least five or six times that all five or six ballots were for Joe Biden." The filing never claims that non-Michigan vehicles delivered all of those ballots nor that all of them were for Biden.
The claim appeared in an article (archived here) published by HermanCain.com on November 11, 2020, under the title "Lawsuit: Out-of-State Vehicles Brought Tens of Thousands of Unsealed Ballots to Michigan, All for Dems". It opened:
A major new allegation of voter fraud has been raised in Michigan, where a lawsuit filed by the Great Lakes Justice Center on behalf of two poll challengers says multiple levels of improper conduct took place on orders from election officials.

The allegations are aimed at election officials from Detroit and Wayne County, according to a release from the center, and are based on affidavits of named individuals who said they witnessed misconduct.

"This type of widespread fraud in the counting and processing of voter ballots cannot be allowed to stand. Michigan citizens are entitled to know that their elections are conducted in a fair and legal manner and that every legal vote is properly counted," senior counsel David A. Kallman said in a statement.
This is what social media users saw:
The story, which originally appeared on WesternJournal.com, offered this description of the lawsuit:
The complaint alleged that some ballots arrived in vehicles with out-of-state license plates, and that "[i]t was observed that all of these new ballots were cast for Joe Biden."

The complaint went on to claim that election workers "systematically used false information to process ballots, such as using incorrect or false birthdays. Many times, the election workers inserted new names into the QVF after the election and recorded these new voters as having a birthdate of 1/1/1900."
The lawsuit (which you can read here) includes a sworn affidavit from Andrew Sitto, a citizen who said he was a poll challenger posted inside the center where all Wayne County, Michigan, votes were counted on the evening of November 3 and morning of November 4, 2020. He said:
5. I was standing in the center of the room where there were replacement or duplicate ballots for damaged ballots. I remained in this location from about 10:00 p.m. until about 4:30 a.m. If a counter needed a duplicate ballot, they would come to this central location to take a duplicate ballot.

6. At approximately 4:30 a.m., I thought everyone was going to go home as our shift had ended.

7. There were two men in charge of the counting, one in his 30s and one in his 50s.

8. At approximately 4:30 a.m., on November 4, 2020, the man in his 50s got on the microphone and stated that another shipment of absentee ballots would be arriving and would have to be counted.

9. I heard other challengers say that several vehicles with out-of-state license plates pulled up to the TCF Center a little before 4:30 a.m. and unloaded boxes of ballots.
Here is a screenshot of that section of Sitto's affidavit:
The affidavit does not make a claim of how many ballots were "heard" to have been delivered by vehicles with non-Michigan tags, only that it was "several vehicles."
Contrary to the claim in the HermanCain.com article, the affidavit does not make the claim that the ballots were brought into Michigan by those cars, only that they were delivered to the Detroit vote counting center in the cars.
It should also be noted that there is no legal requirement that poll workers must drive cars registered in the state of Michigan.
The affidavit then read:
10. At approximately 4:30 a.m., tens of thousands of ballots were brought in and placed on eight long tables. Unlike the other ballots, these boxes were brought in from the rear of the room.

11. The same procedure was performed on the ballots that arrived at approximately 4:30 a.m., but I specifically noticed that every ballot I observed was cast for Joe Biden.

12. While counting these new ballots, I heard counters say at least five or six times that all five or six ballots were for Joe Biden. All ballots sampled that I heard and observed were for Joe Biden.
Here is a screenshot of that section of the affidavit:

This is not an allegation that ALL of the ballots were for Biden. The witness only accounts for hearing that about 30 of them were and that he knew of none of them that were not.
This debunk is not examing the validity of the legal complaint's claims. We are only making a conclusion about how the HermanCain.com article reported on the lawsuit concerning the ballots purportedly delivered by out-of-state vehicles. Our findings are enough for Lead Stories to conclude that the article is partly false.
NewsGuard, a company that uses trained journalist to rank the reliability of websites, describes hermancain.com as:
A website featuring conservative commentary by Herman Cain, a former businessman who ran for president in 2012. Cain died in July 2020 of the COVID-19 virus.
According to NewsGuard the site can generally be trusted to maintain journalistic standards. Read their full assessment here.