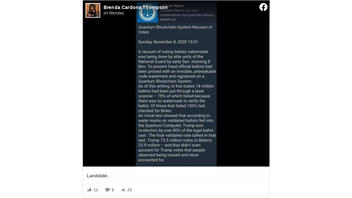 Did Judicial Watch publish a story titled "Quantum Blockchain System Recount of Votes" that claimed with no evidence elite National Guard units were recounting votes in several states? No, that's not true: there is no trace of the article on the website of Judicial Watch and according to searches of the web and social media there never was one. The article refers to a debunked conspiracy theory involving watermarked ballots that we wrote about here.
An example of the misattributed story can be seen in this Facebook post (archived here) on November 10, 2020. It showed the name and logo of Judicial Watch over a text that read:
A recount of voting ballots nationwide was being done by elite units of the National Guard by early Sun. morning 8 Nov. To prevent fraud official ballots had been printed with an invisible, unbreakable code watermark and registered on a Quantum Blockchain System.

As of this writing, in five states 14 million ballots had been put through a laser scanner - 78% of which failed because there was no watermark to verify the ballot. Of those that failed 100% had checked for Biden.

An initial test showed that according to water marks on validated ballots fed into the Quantum Computer, Trump won re-election by over 80% of the legal ballot cast. The final validated vote tallied in that test: Trump 73.5 million votes to Biden's 25.9 million - and that didn't even account for Trump votes that people observed being tossed and never accounted for.
This is what the post looked like on Facebook at the time of writing:
(Source: Facebook screenshot taken on Wed Nov 11 12:28:26 2020 UTC)
However the source of the article (archived here) is not Judicial Watch but "Before It's News", a site where anyone can sign up and publish whatever they want. From their FAQ:
What kind of stories can I post at Before It's News?

We publish almost any story by almost anybody, as long as it's news, commentary, analysis or opinion. The other criteria is that the stories can't be commercially motivated in the news area. We do accept commercial stories in our promotional area only. You can post event notices, press releases and promotional stories, but we ask that those are placed in their respective areas.
The article in question builds on the debunked theory that the DHS embedded a secret watermark in all ballots nationwide as part of a massive "sting" operation to catch voter fraud. However, as you can read in our fact check here, the DHS has categorically denied any of this is true.
The article also offers no sources for any of its claims about the National Guard being involved in vote counting.
Near the end of the "Before It's News" story the text of an October 16, 2020 tweet (archived here) from Judicial Watch president Tom Fitton is included in the article, just above an ad:

It is likely some people were confused by the layout and took this to mean Fitton or Judicial Watch was the author of the entire bogus National Guard/Quantum Blockchain story. But it was published under the "Before It's News" account of "Judy Byington" who used the site in the past to publish several other hoaxes without a shred of supporting evidence.
Searches of Twitter, Google, their website and their Facebook page did not reveal any trace of articles by Judicial Watch even containing the word "blockchain".
We have reached out to Tom Fitton for comment and will update this article when we receive a response.