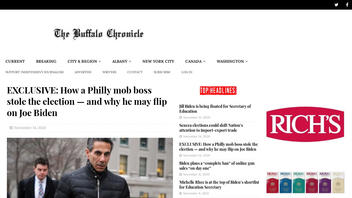 Did mob boss Joey Merlino, also known as "Skinny Joey," help Joe Biden win Philadelphia by getting him 300,000 fraudulent votes? No, that's not true: The Philadelphia City Commissioners, a bi-partisan body that supervises elections, say there is no evidence of such voter fraud and President Trump's personal lawyer, Rudolph Giuliani, has dismissed claims of mob involvement in the 2020 presidential election. The claim does not offer documentary or photographic evidence of the crime.
The claim appeared appeared in an article (archived here) published on buffalochronicle.com November 14, 2020, under the title "EXCLUSIVE: How a Philly mob boss stole the election -- and why he may flip on Joe Biden". It opened:
The innermost circles of the American mafia are abuzz. The Boss of the Philly mob -- 'Skinny Joey' Merlino -- is taking a victory strut, hobnobbing around the highest echelons of old-time mafia folk, mostly in Florida, describing what may have been the heist of the century: the 2020 presidential election.
Online, readers saw this version on Buffalochronicle.com: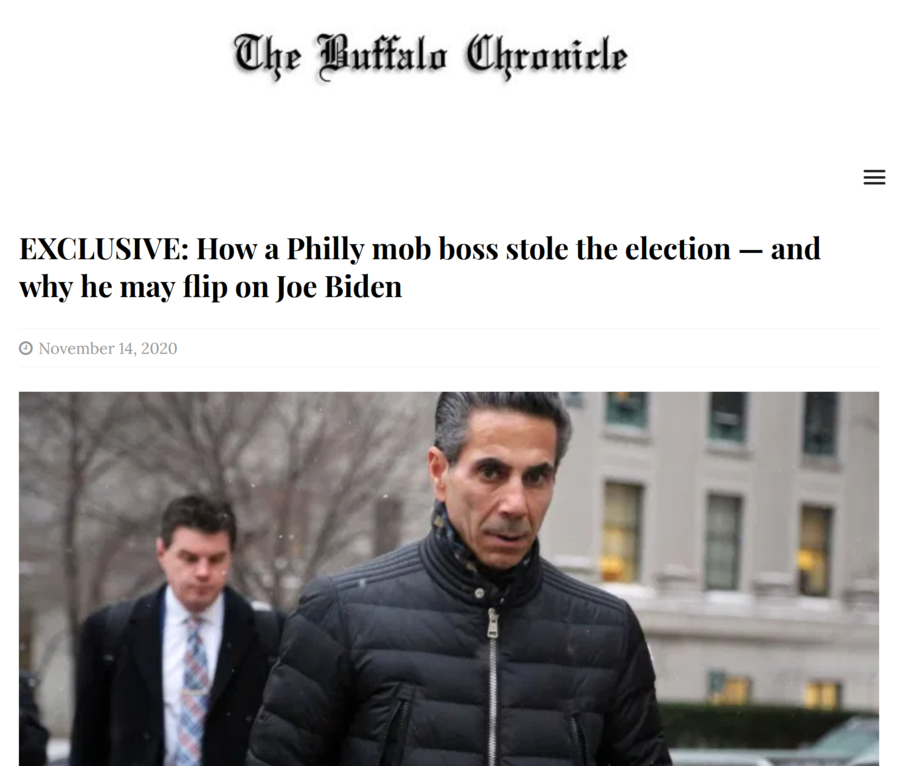 The article says that Merlino and unnamed "political operatives" in Pennsylvania "ordered up some 300,000 election ballots marked for Biden."
"The source alleges that Merlino and a lean team of associates manufactured those ballots at a rate of $10 per ballot -- a whopping $3 million for three days of work," the article states. "They were then packaged into non-descript cardboard boxes and dropped off outside the Philadelphia Convention Center."
The article says that perhaps some at the Philadelphia elections board were in on the alleged scheme of stuffing the ballot box.
"It's thought that Democratic Party operatives working inside Philadelphia's election office provided Merlino with crates of raw ballots just hours before polls closed on election night, which he transported to two private households in South Philadelphia," the article states "By 10 p.m. that night Merlino's operation was already generating more than 3,000 ballots per hour, which quickly scaled to more than 6,000 ballots per hour before midnight."
In an email to Lead Stories, the Philadelphia City Commissioners described The Buffalo Chronicle's accusations of such voter fraud as "fiction." Seth Bluestein, who is chief integrity officer and top deputy to Commissioner Al Schmidt, the only Republican among the three commissioners, said it was highly unlikely such claims of voter fraud would have gone undetected by elections officials.
"As the Republican Deputy Commissioner who was present at the convention center for 50 straight hours working without sleep I hereby declare that "Democratic Party operatives" did not leave the facility with crates of raw ballots just before the polls closed on election night," he wrote in an email to Lead Stories.
Even Rudolph Giuliani, President Donald Trump's personal lawyer involved in the Trump campaign's lawsuits regarding alleged election irregularities in a few states, appears to have doubt about The Buffalo Chronicle's claims. In an interview on the Fox Business channel November 17, which included a discussion of what the campaign considered to have been election irregularities in Pennsylvania, Giuliani dismissed the notion that mobsters were involved in the election. He never mentioned Merlino by name.
"There is an allegation of a mobster involved, but I think it is a far-fetched one," he said.
NewsGuard, a company that uses trained journalist to rank the reliability of websites, describes buffalochronicle.com as:
A website covering New York State, U.S., and Canadian politics that has frequently published false and unsubstantiated conspiracy theories, often aimed at left-leaning politicians.
According to NewsGuard the site does not maintain basic standards of accuracy and accountability. Read their full assessment here.
The website is home to the online newspaper, The Buffalo Chronicle.