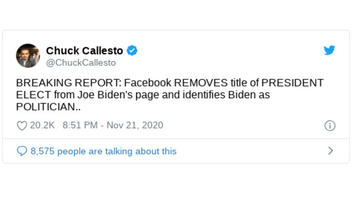 Did Facebook remove the title "President Elect" from the @joebiden Facebook page, and then only identify President-elect Joe Biden as a politician? No, that's not true: a database of screenshots of the @joebiden Facebook page, for more than two week, shows that the page never contained the title "president elect" in its name. Additionally, a Facebook spokesman confirmed to Lead Stories that the company did not remove "President Elect" from Biden's page.
The claim appeared in a tweet (archived here) posted on November 21, 2020, titled "Chuck Callesto on Twitter," which opened:
"BREAKING REPORT: Facebook REMOVES title of PRESIDENT ELECT from Joe Biden's page and identifies Biden as POLITICIAN.."
This is what the post looked like on Twitter at the time of writing:
(Source: Twitter screenshot taken on Tue Nov 24 18:24:55 2020 UTC)
Lead Stories reviewed the @joebiden Facebook page, using Internet Archives Wayback Machine, which includes a database of screenshots frequently taken of the @joebiden Facebook page. We looked at the archived screen shots back to November 7, 2020, when news organizations deemed Biden president-elect, projecting the Electoral College votes he would receive based on unofficial tallies that continued to come in from the remaining states he needed to win the election. The database shows that the title "President Elect" was not included in the name of the @joebiden Facebook page during the more-than-two-week period.
A Facebook spokesman confirmed in a November 24, 2020 email to Lead Stories that Facebook did not remove the "president elect" title from Biden's page and replace it with "politician." He said that the company does not add the category of "politician" to pages. That is the choice made by the entity managing a given page, the spokesman said.
In a related matter, the @POTUS, @WHITEHOUSE and @FLOTUS Facebook pages have traditionally been managed by the presidential administration in power.
"In 2017, we worked with both the Obama Administration and incoming Trump Administration to make sure the transition of their Facebook and Instagram accounts was seamless on January 20th, and we expect to do the same here," read a statement the company emailed Lead Stories.
False claims about Facebook dropping titles have not been limited to Democrats. A recent viral tweet falsely claimed that Facebook had removed the title 'President' from Donald Trump's personal page.
(Editors' Note: Facebook is a client of Lead Stories, which is a third-party fact checker for the social media platform. On our About page, you will find the following information:
Since February 2019 we are actively part of Facebook's partnership with third party fact checkers. Under the terms of this partnership we get access to listings of content that has been flagged as potentially false by Facebook's systems or its users and we can decide independently if we want to fact check it or not. In addition to this we can enter our fact checks into a tool provided by Facebook and Facebook then uses our data to help slow down the spread of false information on its platform. Facebook pays us to perform this service for them but they have no say or influence over what we fact check or what our conclusions are, nor do they want to.)