STORY UPDATED: check for updates below.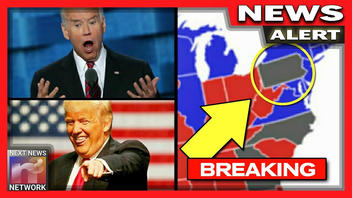 Did Joe Biden lose his status as president-elect after RealClearPolitics rescinded its call of Pennsylvania for Joe Biden? No, that's not true. RealClearPolitics Co-founder and President Tom Bevan tweeted it was false news. A search of web archives shows that RealClearPolitics never did call the election for Biden in Pennsylvania or overall when this article was first published. (Note that they did eventually call Pennsylvania and the entire election for Biden later).
The claim appeared in a number of social media posts, including in a video (archived here) published on YouTube November 9, 2020 by The Next News Network with the title "BREAKING: BINDEN LOSES PRESIDENT-ELECT STATUS AFTER PENNSYLVANIA WIN RIPPED FROM HIS GRASP". It opened with host Gary Franchi stating:
I got some exciting late-breaking news this hour that you are going to want to spread everywhere. Tweet, email, text message everybody. America needs to see this -- Biden losing President-Elect status after the Pennsylvania win has been ripped from his grasp...This is huge news, my friends. Pam Bondi, who is Florida's former attorney general and former special advisor to President Trump's Office of White House Counsel, tweeted out some very good news for President Trump and devastating news for Joe Biden."
Click below to watch the video on YouTube:
Below is a screenshot of the old headline for 850 WFTL News Talk in South Florida, which has since updated its story with a new headline, "RealClearPolitics Does Not have Biden Winning Pennsylvania or Presidency, Yet."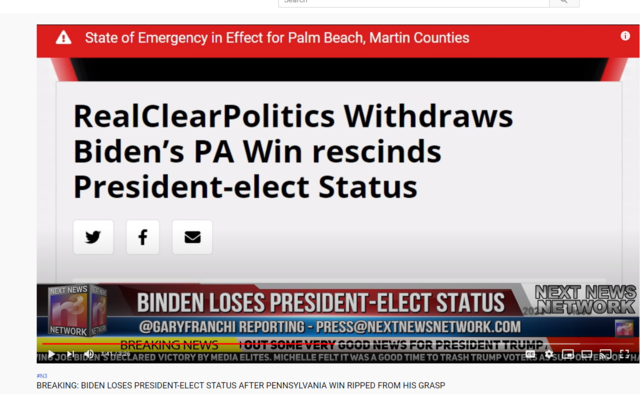 Here is what Bondi's tweet looked like before it was taken down by Twitter: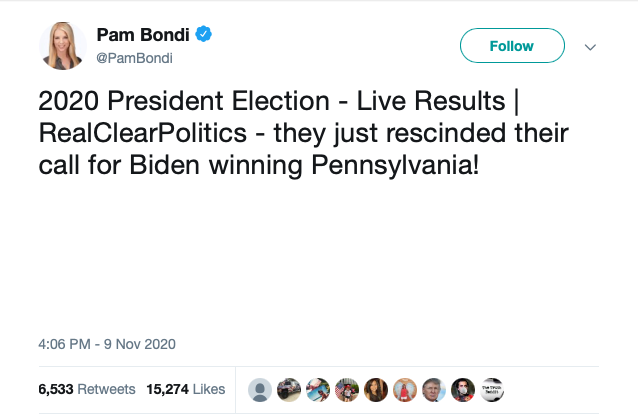 Even though the tweet was deleted, the claim gained widespread attention -- including from Trump attorney Rudy Giuliani, who also posted to Twitter on November 9:
#FakeNews won't cover law suit which will invalidate 300,000 or more crooked democrat votes votes in Philly.

Real Clear Politics just took PA away from Biden and made it a toss up.

Only the beginning please look beyond the Big Media censorship to watch it all change.

-- Rudy W. Giuliani (@RudyGiuliani) November 10, 2020
While Bondi, also a former Florida attorney general, had her tweet deleted, Giuliani's was flagged by Twitter with "This claim about election fraud is disputed."
Here is RealClearPolitics' Tom Bevan's response to Giuliani's tweet:
This is false. We never called Pennsylvania, and nothing has changed. https://t.co/YXZ1PjI7Ud

-- Tom Bevan (@TomBevanRCP) November 10, 2020
Sean Spicer, a former chief spokesman for Trump, tweeted this, agreeing with Bevan:
Correction- @RealClearNews has not called NC, GA, AZ, AK and never called PA. It doesn't have either candidate at 270 https://t.co/2dDFO8Hf5g

-- Sean Spicer (@seanspicer) November 10, 2020
Still, social media has a life of its own, and the claim was repeated on seemingly every platform, including this post of a tweet on November 9 on the page of Instagram user realshekinah: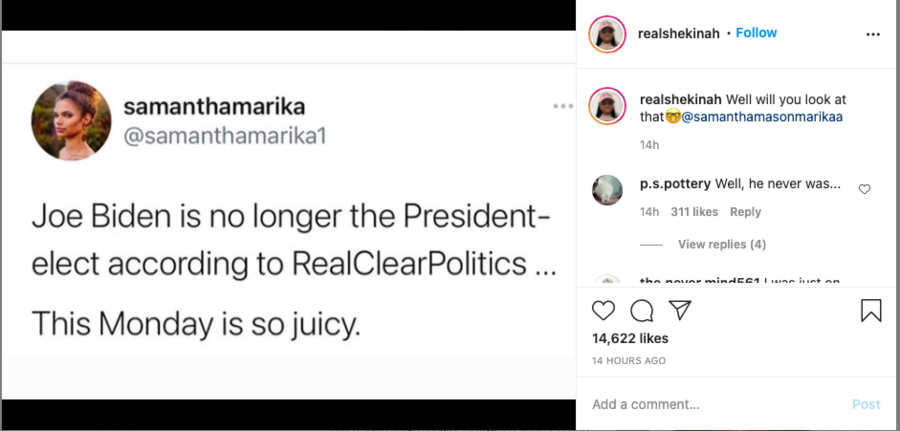 And on Fox Sports South Florida, a story, still up at the time of this writing, ran with the claim -- albeit with a qualifier statement. Here's how the first two paragraphs read:
RealClearPolitics (RPC) live results feed withdrew Joe Biden's president-elect status Monday night after stripping him of Pennsylvania's 20 electoral votes.

RCP reversed Biden's win in Pennsylvania on their live feed bringing him back down below the 270 threshold to 259 electoral votes. Although, in some confusion, Real Clear Politics never called Pennsylvania to begin with, in the Presidential race. Either way, RCP does not have Pennsylvania in Biden's win column."
On Facebook, it looked like this on Christa Elisha's page: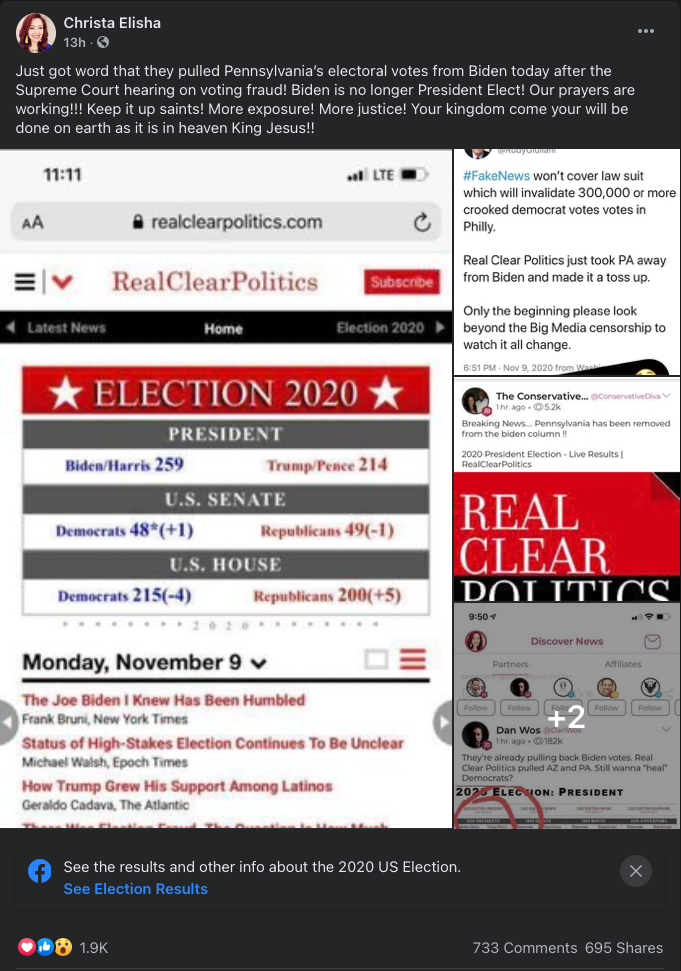 Lead Stories checked RealClearPolitics's page each day since the election count started on the WaybackMachine web archive. We found no instances of the site calling Pennsylvania for Biden. They also continue to have Biden at 259 electoral votes and Trump with 214 -- both shy of the needed 270 to win the presidential election.
As of November 10, most news outlets had called the election for Biden. But Trump's legal team is trying court challenges to the voting process in hopes of reversing that.
2020-11-14T09:51:33Z

2020-11-14T09:51:33Z

Added info about RealClearPolitics eventually calling PA and the entire race for Biden.

2020-11-12T14:37:51Z

2020-11-12T14:37:51Z

Updated headline to focus on RealClearPolitics, added "as of the time of writing".